Here comes Red Racer he's a demon on wheels…sorry, whenever I think about the name for this holster, I get the old Speed Racer theme song stuck in my head.  I was (and still am) going to do a detailed post on the Red Racer holster, especially after I get it out to the range and actually use it.  However, this morning I went to grab my camera and found that the battery was dead from inattention, so the best picture I can snag for you is from my iPhone which really doesn't do this holster justice.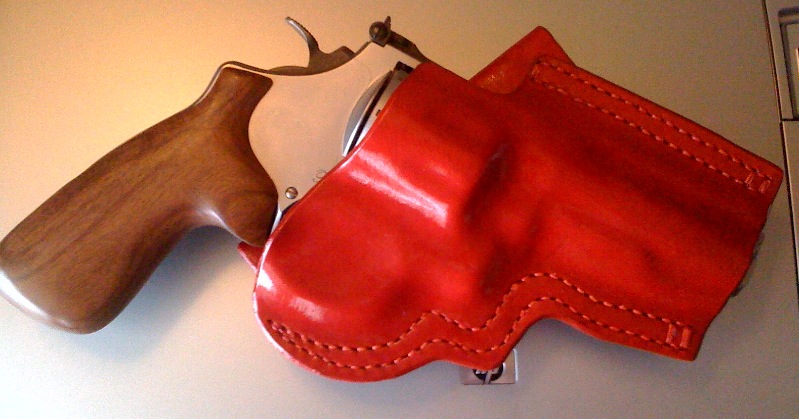 Michael at the Holster Site knocked this holster together for me based on some custom specs that I had, and it is absolutely a perfect fit for my 627 Pro.  What you can't see in the picture is that the belt loops are set up for a muzzle forward cant, which positions the grip in the fastest possible angle for drawing rapidly.
What really impressed me most about Red Racer though was the stiffness and retention in the leather.  When I first pulled it out of the box, I seriously thought it was a kydex holster the leather was so firm.  I imagine that it will hold up pretty well to the kind of use I'm going to put it through.  Michael at The Holster Site does absolutely fantastic work, and I'll make sure to give this holster the glamour shots it deserves this week!