Did you miss last night's Gun Nuts Radio? If you did, don't worry – because you can still download it by clicking on this link. It was a great show. I took the night off, which was the first time since the show started in June that I've had a night off, so I figured I could probably stand to take a day. Breda hosted the show by her lonesome, and it was a great show. If you want to grab an .mp3 copy of the show, you can click here to download or just click the icon below.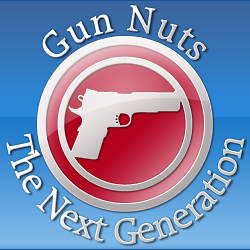 Also, Gun Nuts Radio is available in the iTunes store. If you've got an iTunes account, just go to the iTunes store and search for "Gun Nuts Radio" and you'll find our show. Or, just click here for instructions on how to subscribe to the show's RSS feed using your iTunes player or even a Zune.
Thanks to Breda for hosting, and for all the great callers who joined the show last night, including our first international caller! It was a great show, and we'll keep the momentum rolling into next week with a show on self-defense and tactics for a mass shooting situation.