Remember this story from Broward County?  The one where CBS Evening News basically did a hit piece on "assault weapons", and claimed that AKs are flooding the streets.  Remember how the "confiscated guns" didn't include a single AK-47?  Apparently, CNN felt left out, and had to do their own hit piece on assault weapons, this time from Palm Beach County instead of Broward County.
It's almost the exact same article from a different location – the premise is that cops are "outgunned" by all these AK toting banditos, and thusly feel the need to issue assault rifles to the rank and file deputies.  I am actually a little appalled at CNN for trying this; especially since it really is the exact same story that CBS ran a little over a month ago.
As of about 9:30pm, this was the headline and CNN.com's front page image.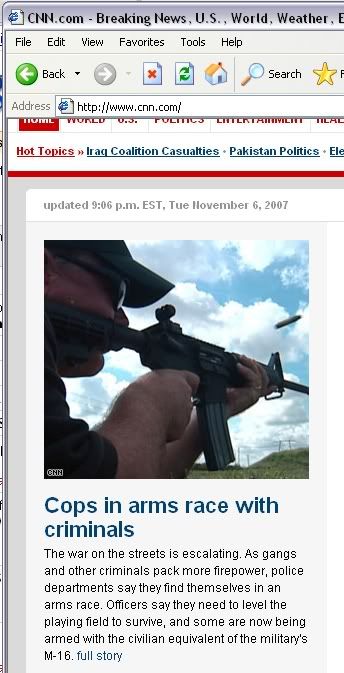 It represents the worst sort of base appeal to emotions that the anti-gun side has to offer, and the article itself reads like a Brady Campaign press release.  I'll debunk the factual inaccuracies here.
Across the country, at least 62 police officers have been gunned down this year — a record pace, said Robert Tessaro, the associate director for law enforcement relations for the Brady Campaign to Prevent Gun Violence.  As a result, the Brady organization supports police officers arming themselves with high-powered weapons "to protect themselves and their communities," he said.  "We're having more than one officer shot and killed a week. It's just outrageous that officers are being targeted," he said. "It's something I think all Americans should be outraged about."
How many of those officers were killed with "assualt rifles"?  I'd be willing to wager that the answer to that question is single digits, or zero.  Remember, that an actual "assault rifle" is a real, definable thing.  By definition, it's a full automatic or burst fire military weapon firing a cartridge of intermediate power.  Now, an "assault weapon", is a made up term, which has been used to cover semi-automatic rifles which look like "assault rifles".
Continuing the quote from above:
He lays the blame squarely on lawmakers who allowed the assault weapons ban to expire in 2004.

Designed to be fired from the hip, assault rifles such as the AK-47 can spray at a rate of up to 600 rounds a minute in full automatic mode. It is the weapon of choice for guerillas and gangsters.
There are several things wrong with the statement, and allowing to stand as such betrays the motives of the CNN piece.  First off, fully automatic weapons have been practically illegal since the mid 30's, and were not banned by the Assault Weapons ban which expired in 2004.  No, that ban covered semi-automatic rifles, which are functionally no different than this hunting rifle.
What the article is trying to do is make people believe that fully automatic AK47s were banned by the AWB, which expired in 2004, when in fact, fully automatic AK47s have always been illegal.
The sentence about the capabilities of the AK could entail a blog post in an of itself.  The AK was not designed to be fired from the hip, especially on full auto.  CNN and the Brady's would have us believe that these guns are intended to be fired "Rambo style", spraying bullets in a swath of destruction.  The problem with that is that anyone who has ever fired even a .22 rifle understands that "spraying from the hip" is the worst way to fire a gun.  The second half of the sentence, about the AK being the "weapon of choice of guerrillas and gangsters" is nothing more than an appeal to emotion.  By equating this gun with people that we know are bad, we are making the gun seem bad by association.  Nevermind that the AK has also been the weapon of choice for freedom fighters and several of our allies.  Just because a weapon has been used by someone for something bad, doesn't make it evil.  It's an inanimate object, with no will of it's own.
The article continues with a statement similar to the one CBS made about $200 AKs:
There's no doubt that urban street warfare, aided by a proliferation of cheap automatic weapons, has come even to Palm Beach County, once high society's vacation mecca and a retirement destination for northern snowbirds.
Where are all these cheap automatic weapons that are flooding the streets?
"The streets of South Florida are being flooded by AK-47s and assault weapons from old Soviet bloc countries. It's driven the price down, making the availability greater," said Chief Timoney.
So…Belarus and the Ukraine are flooding our streets with AKs now?  Or maybe he's talking about semi-automatic AK47 lookalikes.
The statistics used to support the "flood" of "assault weapons" aren't exactly reliable, because they don't define what an "assault weapon" is – so if you're looking to prove a point, it's pretty easy to pad your stats.
Articles like this are frustrating – because CNN is a major media outlet, people will see this article and just believe it, sight unseen.  The problem is that just like CBS did back in October, and just like John Zarella did in the past for CNN, a major media outlet is spreading disinformation and doing everything they can to foster fear.