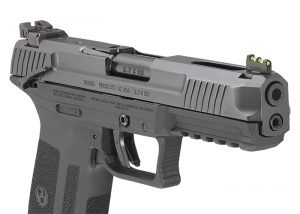 What in the wide world of sports is going on at Ruger? They have been steadily dropping new models in advance of the 2020 Show Season coming up in January, but nothing has really been earth shattering. A sweet new 8 shot 9mm revolver that might, albeit probably not make S&W wake up a bit? Cool. How about an LCP in 22 LR for practice and cuteness factor? Ok, whatever. Then, out of nowhere comes the Ruger-57 to take a big ol dump in FN's messkit.
Alright, so first off… What is it? Well, it's basically an FNH Five-SeveN, made by Ruger. It's not quite as blocky, and the controls look a little more user-friendly overall, but you can definitely see the outward resemblance, and I'd bet the inner workings are fairly similar as well. Like the FN, it holds 20 rounds of 5.7x28MM ammo. The other specs are pretty similar as well, with the Ruger being very slightly larger in the barrel and overall length department (boring spec sheet is at the end of the article).
But Dat Price Tho
The single biggest difference, as expected, between the Ruger 57 and the FN Five-SeveN is the price. Based on what we know at the point, the Ruger 57 is going to have a street price of about $575-600, as opposed to the $1100 generally seen for the FN.
Feeding The Beast
Of course, one of the ongoing problems that has plagued the FN Five-SeveN, and is sure to impede the Ruger 57 somewhat is availability, and price of 5.7 ammo. Well, we've also heard rumors that at minimum Hornady and CCI/Speer are both set to release more offerings in the cartridge in the coming weeks. Hopefully, we'll also see a steadier supply of the Federal American Eagle FMJ load, since CCI/Speer and Federal both fall under the Vista Outdoor umbrella.