Last night as I was getting off the internet for the evening, I made the mistake of glancing at FB one last time. I say mistake because I got to see that the Internet Outrage Machine was in full swing again, this time targeting one of the best knife companies in the business: Benchmade.
It all started when the Oregon City Police department put this photo on social media, which has been taken down: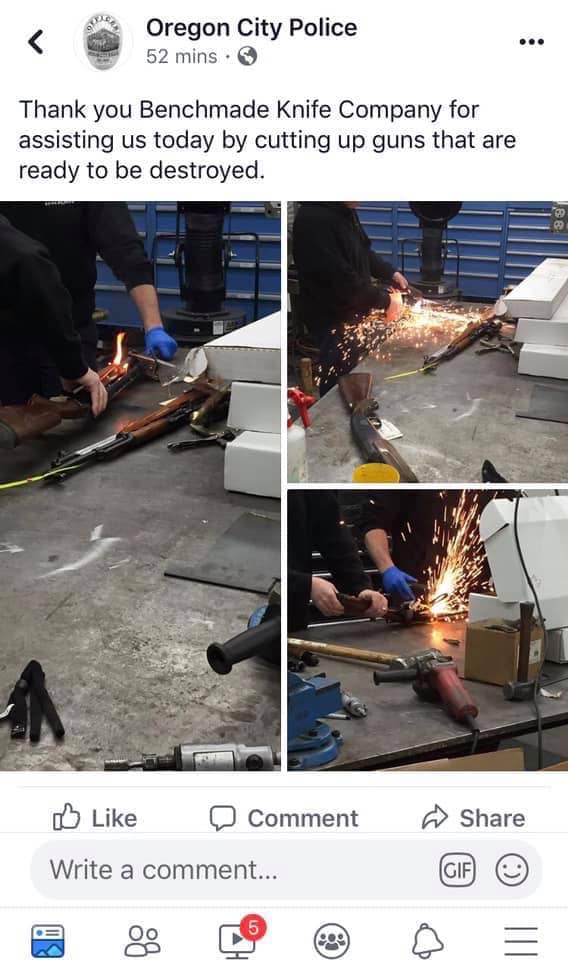 The photo shows Benchmade employees assisting the police department with the destruction of some guns that were scheduled for destruction. The internet lost its mind over this, with people branding Benchmade as "anti-Second Amendment" and the usual calls for boycotts or to sell all your Benchmade knives. Yes, that's right. The same people who refer to anyone remotely left of them politically as an "easily offended snowflake libtard" were once again butthurt over something stupid and pointless. Fire up the internet outrage machine, because a knife company cut up some crime guns!
Of course, the Oregon City Police pulled the photo and issued a statement after this went viral, but the damage was already done. It was time for people to get outraged over nothing, and man if there's anything I've learned about the Internet in Current Year, it loves getting outraged. I won't link any of the comments directly, but generally speaking they accused Benchmade of being all the following:
Anti-American
Anti-Second Amendment
In favor of gun confiscation
You get the idea. Benchmade also issued a statement citing their longstanding support of the Second Amendment as well as their local law enforcement community, which is how all this started in the first place.
How did we end up here? Well, it starts with the Oregon City police department. They were in possession of guns that according to their department's policy had to be destroyed. It's important to note that the State of Oregon does not require guns confiscated by the police to be destroyed. Some states do but Oregon is not one of them. The OCPD even said in their statement that the guns were being destroyed in compliance with their own policies. In simple terms when OCPD takes a gun that can't be returned to its owner for whatever reason, it has to destroy it. In this particular case, the guns had to be destroyed, because they were either turned in by a civilian requesting their destruction, or ordered by the court to be destroyed.
Things get more complicated because the ATF has a clear definition of what "destroyed" actually means. I'll copy them here:
What are ATF's Acceptable Destruction Procedures?

Use an oxy/acetylene torch (not band sawed)
Must remove at least ¼ inch of metal per cut
Must be made at angles and completely sever the receiver in at least 3 critical locations (specified by model)

Acceptable method of destruction is to completely melt (smelt), shred or crush the firearm receiver. These torch cuts are acceptable alternatives to shredding.

Must pass through the forward wall or barrel mounting area
Must pass through the rear wall
Must pass through an area having a critical fire-control-component mounting pin and/or the slot in which the operating handle reciprocates
Those are pretty specific, which is why the OCPD asked Benchmade to help since they lacked a torch to make the cuts. Benchmade, being cool dudes who want to help their local PD out, said "sure" and chopped up the guns. Picture gets posted, people freak out, and now here we are.
The question then is did Benchmade do anything wrong? Other than sucking at social media control, no they didn't. They should have realized that the optics of a well respected knife company chopping up guns with a torch are exactly the sort of thing that the easily triggered 2nd Amendment Facebook Warriors will flip out about. They should have insisted on a strict no pictures policy during the destruction. But they didn't.
What's more interesting to me is that the local PD isn't catching the heat from the 1st Keyboard Battalion. Their policy of firearms destruction is an internal policy that isn't mandated by state law, there's nothing in the laws in Oregon that prevents a PD from selling confiscated guns to the public. I'm against police departments selling people's property to generate revenue for anything, because I think that encourages a culture of gross civil asset forfiture, which the Supreme Court just ruled against, thank god. But that's not the point. In this case I really don't think there's anything to be upset about, since the guns had to be destroyed. It's not like OCPD can tell the judge who ordered the destruction to get bent, and when a civilian requests a turned in gun get destroyed, it would be wrong to not follow their wishes.
The point is that the outrage over Benchmade is nonsense. It's people with no skin in the game getting butthurt about nothing. Benchmade was trying to help out their local PD in a small town and accidentally sucked at social media management. That's it. There's nothing here that's worth being upset about, except for the OCPD's policy of destroying guns that don't need to be destroyed. But if you would like to get rid of your Benchmade knives, I will happily take them off your hands for free.