If you follow the Gun Nuts Media YouTube channel you've probably noticed that all my recent videos have been filmed at a new location here in Sioux Falls, specifically Badlands Gun Range. Up until recently, there was only one indoor range in Sioux Falls, a place called Gary's. While the staff at Gary's were always nice to me, the facility itself left something to be desired. One of the big problems that Gary's had was that the air system didn't work very well, to the point that after an hour of shooting when I would leave the range, I'd have grey/black mucus in my nose for a while. That's not ideal.
Other options would be to travel ~1 hour north to the Outdoor Adventure Center in Brookings, SD. The OAC is a great facility, five star rated by NSSF, is nice and clean, well lit, and quite lovely. I teach classes up there and heartily recommend it. However, it is an hour north, and in winter in SoDak that can be problematic. As a brief aside, it's interesting how living in SD has changed my perception on what's a long drive; when I lived in Seattle I'd routinely drive 45+ minutes from Redmond to Puyallup for USPSA matches. But I digress. I love the OAC and maintain a membership there, however due to its distance I have to plan when I want to make a trip up there to train.
That's why when Badlands Gun Range opened up in Sioux Falls, five minutes from my house, I was extremely happy.
(Full disclosure: Badlands did not ask me to write this review even though my wife works there and I'm friends with a bunch of the staff)
Facilities
To understand the Badlands Gun Range, you have to look at the facility as a whole. It's not just a gun range, it's a gun shop, a pawn shop, a deli, a radio station, a music shop, and a concert venue. It's…kind of like a little slice of Las Vegas got dropped right down into Sioux Falls, and to be honest it's pretty awesome. Not a single dollar was spared on amenities, which means the parts we care about (the gun shop and gun range) are clean, well lit, well laid out, and generally a nice place to pull some triggers.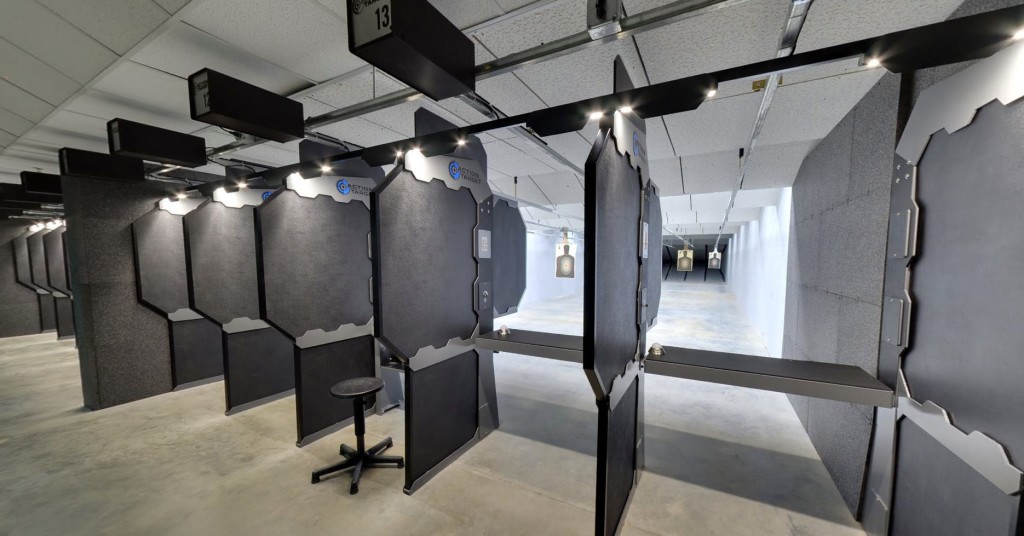 The actual shooting range is an Action Target set up with 10 standard lanes and 4 VIP lanes. The VIP lanes get a private shooting area, a waiting lounge with pinball and non-alcoholic drinks, and upgraded computerized target carriers. The standard lanes are fed from a large waiting area with high top chairs and tables, and a huge glass window for viewing shooters on the range. There are also electronic combination wall lockers to store jackets or other items in. The standard lanes have simple "forward/back" target carriers, which unless you're interested in turning targets on par times, will absolutely suffice for your training needs. I just bring a shot timer.
All the shooting lanes are rated for up to a .30-06, and one lane in the VIP side is rated for up to .50 BMG. You can hammer away with your .223 all day without causing any issues.
Rentals
I'm a big believer that a good gun range should have a good rental selection, and Badlands does. They have the expected assortment of handguns for shooters to try out, but where their rentals really shine are the full-auto guns. 9mm AR buzz guns, MP5s, MP40, but the real crown jewel of the rentals? A BAR. Yes, a full auto Browning Automatic Rifle. Because .30-06 squad automatic weapons are AWESOME, and shooting a BAR is an even better way to reenact WW2 than shooting a Garand.
Gun shop
The range also has a gun shop, which…is a gun shop. It's very nice and clean, and the customer service is solid, which is really what makes or breaks a shop. I price shopped their new guns vs. what I know about MSRP and dealer markup, and they're solidly in the ballpark. Used gun prices trend a little higher than I'd like to see, but let's be honest, used guns are where most people make their money anyway. If you're interested in gunsmithing services, make sure to talk to Chase.
Customer Service
Honestly, I've not had a bad customer service experience at Badlands, but to be honest it's also not fair for me to really rate the service there. Everyone knows me, and they all know my wife who is an employee of the range, so impartial judgement is pretty much out the window on that count. However, everyone I've interacted with on the shop or range side has been unfailingly polite.
Pricing
This is a bit of a multi-faceted equation, because "pricing" covers a lot of different areas. I'll try to hit them all:
Retail sales pricing: New guns are right in the ballpark, used guns seem a little high, however there are also some downright steals in the shop if you know what you're looking at. And no, I'm not going to tell you what they are.
Hourly range use: perfectly reasonable. Standard Lane for half an hour is $20 bucks, and a full hour is $30. VIP lane is $40 for a half hour and $60 for a full hour. I recommend the full hour on the standard lane to get the most bang for your buck.
Membership pricing: This is where I have issues, because the membership prices are totally out of whack for the value received. The standard membership is $250 a year, and you get 1/2 off lane fees and 1/2 off rentals. I'm actually going to go into more detail on membership pricing below.
I do want to kind of park on membership pricing here for a second. The only membership that really makes sense is the $250 basic membership. The half off lane fees does justify the cost of the membership in 17 visits, which is a lot for a casual shooter (more than once a month is a lot, trust me), but it's still a number that you can reach. The family version of this membership is $400, which unless the other people on your membership are going to shoot by themselves a lot, doesn't make a lot of sense.
VIP memberships are $500 for a solo membership and $800 for a family membership. That's nuts. Here are the benefits you get with the VIP membership:
1/2 price on standard range fees
1/2 price on standard rental guns*
1/2 Price on specialty packages
FREE tickets to any Badlands Motor Speedway Event**
FREE eye & ear protection rental
1/2 price Simulator use
One Limited Edition Badlands Gun Range t-shirt or hat
FREE standard targets
One Complementary Badlands Gun Range training class
Invites to all "Members Only" special events
Complementary soft drinks
Occasional priority opportunity to take advantage of free ticket offers to Concerts and Events at Badlands Pawn and Badlands Motor Speedway!
The only perks on that list that aren't available to standard members are guaranteed access to the VIP range, the free tickets to Badlands Motor Speedway events, and the free sodas. Which…isn't really worth an extra $250 bucks to me. If you're going to get a membership, I'd stick to the $250 basic membership and make sure to hit the rang up twice a month to get my money's worth!
Overall score
Honestly, it's a great facility. The air exchangers are great, the range is clean and well lit, the staff is friendly, you can do holster draws if you get certified, rent machine guns, and when it's all done you can go to the deli and get a legit sandwich. That's pretty awesome if you ask me. If you want to buy a membership, get the standard $250 membership and go twice a month, and you'll be in good shape. Oh, and if you do go? Make sure you tell the range staff that you're there because Caleb from Gun Nuts told you it was awesome.
I'm glad that the Badlands Gun Range has opened up in Sioux Falls. Having a place to train that's convenient and is a great facility makes it a lot easier to hit my training goals. I was doing the best shooting of my career when I was training weekly at WCA in Bellevue, and I can already feel my groove coming back.