You know what is awesome? First person shooter video games. Especially the Battlefield lineup, and of those Battlefield Hardline is pretty fantastic. It is immediately evident when playing the single player campaign that someone on staff is a huge gun nerd. The guns are modeled incredibly realistically, right down to in-game ACOG featuring the correct "donut of death" reticle. But when playing the game, this presents a dilemma for gun nuts like myself: because I can set up a gun in game almost exactly how I'd set up my real life equivalent, do I do that? Or do I entertain a ballistic flight of fancy?
What's interesting is that in Hardline, stuff that has been proven to work well in the real world…actually works really well in game. The multiplayer system is divided into classes, meaning that certain types of classes have access to certain types of weapons. For fun, here's a quick look at the classes in Battlefield: Hardline.
Operators: These are your primary assaulters, and their weapons are either carbines like the G36C, M4, or assault rifles (that's the in-game term, calm down) like the M16a3 pictured above or full size AKMs. Sidearms are all 9mm pistols and include the M9, Glock 17, CZ75 and Sig P226. Their additional abilities include carrying medkits to heal team members.
Mechanic: This is a support class. Their primaries are all sub machine guns, which in Hardline are actually pretty awesome at short range. Secondary weapons are wheelguns, and include a S&W TRR8 or a Taurus .44 Magnum. This class also gets a grenade launcher and the ability to repair damaged vehicles. Handy.
Enforcer: The heavy/tank class. Starting weapon for the enforcer is a Remington 870 Marine, which in close range will absolutely one-shot anyone on the map. Enforcers can also unlock battle rifles like the FAL or the bonkers Ohio Ordnance Works HCAR. Sidearms are all .45 ACP handguns, with the exception of the .40 S&W M&P Pro that's available. But your starting handgun is an HK45 Compact Tactical, and if you're playing Cops you can upgrade to a sweet 1911. Other abilities include riot shields, breaching charges, and the ability to replenish teammate's ammo.
Professionals: Lastly, we have the sniper class, and if we play this class I hate you and you suck. They get some dumb sniper rifles and can unlock some equally dumb .308 DMR guns and carry machine pistols, and seriously if you play sniper I hate your guts right up off the ground.
Getting back to the dilemma, if I'm playing an Operator (god I wish they'd named it literally anything other than that) I can rig up an M16a3 with a free-float barrel, stubby vertical foregrip, and a 4x ACOG. That's a combo that has been proven in the field to work really well, and as it turns out it works really well in game. But I own a 20 inch AR that's set up like that, so maybe instead I'll set up the ultimate warrior accurate AK to do basically the same thing.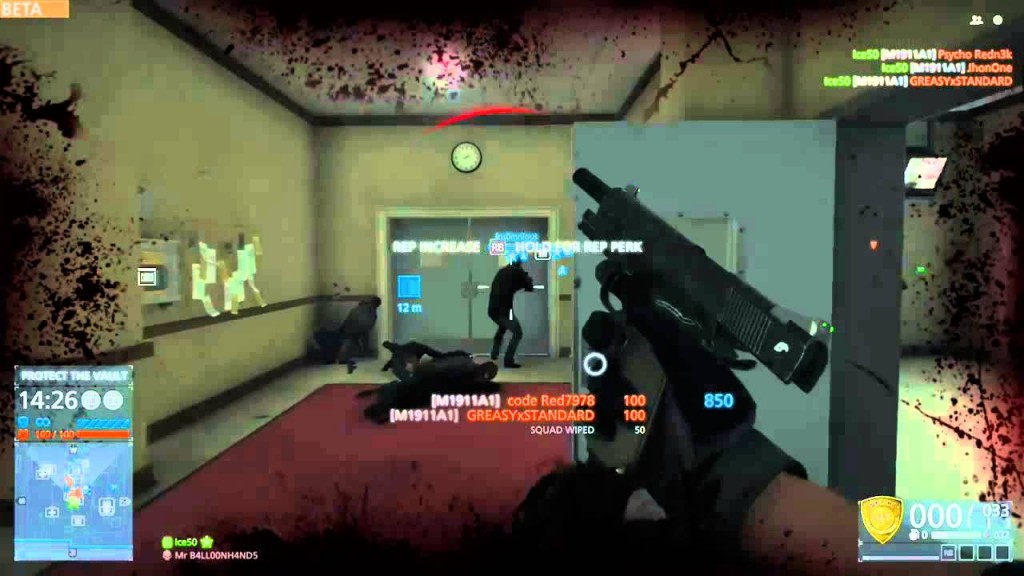 Of course for me, the dilemma is even worse. I love .308 rifles, and I love revolvers. But the class that gets .308 rifles doesn't get revolvers, which makes me have a sad, because I want to wreck shop on dudes with a .308 then transition to my sweet, sweet .357 Magnum. But I can't, so I use the sub-gun class and wreck dudes with a UMP then transition to my magnum. Or, I could roll the heavy class and face-shoot people with .45s all day long, because who doesn't like a good .45? Terrorists, that's who.
There is a real point to all this digital nonsense though, and something that I saved for last. This game and games like it are absolutely how the next generation of gun owners are getting introduced to firearms. The incredible amounts of realism present in the depiction of firearms in game is a good thing. I guarantee that people will come into gun ranges and say "I shot something just like that in Battlefield." The immediate response of any employee of any range in the nation should be "that's awesome! Want to try the real deal?"