By now you've likely heard of the horrid terrorist attack in Paris that claimed the lives of 12 people, including two police officers. The perpetrators are still at large, having escaped after a brief gunbattle with the outgunned Paris police. If you're not up to speed, today in Paris at least two gunmen armed with AK variants and yelling "Allah Akbar" attacked the offices of a satirical French newspaper, killing 10 employees and two police officers. You can see brief footage of the attack here, which I should warn you is graphic and includes the execution of a wounded cop.
Here's what 12 people lost their lives over today: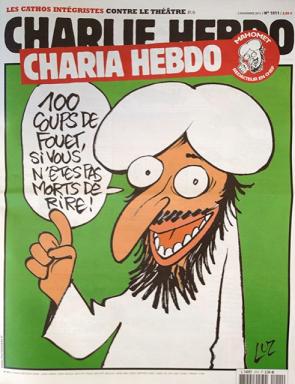 A cartoon. Think about that for a second. Just sit and think about it. Imagine in the United States, if someone were to say, depict Jesus Christ as a sleezy con-artist who lies to women to get laid. Oh wait, what's that? Someone did that just recently? It was on Family Guy's Christmas episode a month or so ago? And yet no one burned Seth Macfarlane's house down, no one got killed. Sure, some people got angry on twitter, but no one grabbed automatic weapons.
I need to be clear before we continue that there are plenty of rational, peaceful followers of Islams that do not support, condone, or encourage this kind of violence. I wish there were more of those people. The reason I wish there were more of those people is because Islam is largely represented by its worst members, the radical factions that do support and practice violence. The closest example I can think of would be if the Westboro Baptist Church was what people across the world thought of when they thought about Christians (and if the Westboro Baptist Church chopped people's heads off on the internet). But the western world does a pretty good job of condemning our own extremists, people like McVeigh and Westboro. Why don't I see the moderate Muslims doing the same thing in the wake of attacks like this?
I'm frustrated. I'm angry. I'm tired. I know that there are people who absolutely want to bring this kind of violence to our shores. Murdering people over cartoons. But, and this is important, that's generally not here yet. We're still America. We still have freedom of religion and we should continue to do allow people to practice whatever religion they see fit, including Islam. Maybe Islam won't ever have a reformation, and will continue for another 1200 years trying to cut a bloody swatch of domination across the globe. But I do know one thing. Unless everyone agrees to stand up to radicals who terrorize in the name of Mohammed, the peaceful moderate Muslims will never even have a chance to become the voice of their religion.