People are always talking about "serious guns" versus "fun guns." For example, my Beretta ARX160 is a "serious gun" so I have it set up with a rugged optic and back up iron sights, so when I have to fight ISIS fighters in the mean streets of Sioux Falls I'll be ready. But my Troy Carbine is a "fun gun" because I just have a 2 by 7 Leupold optic on it and I use for games and hunting coyotes.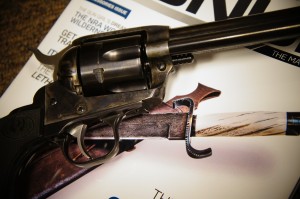 Or take a Ruger Vaquero, that's pretty clearly not a serious gun for serious things, because it's a single action revolver! It's really just an overgrown toy! But what about professional competition shooters? Their competition guns are pretty serious to them, right? And couldn't you argue that any gun you carry is a pretty serious gun just by the fact that you carry it? So why does the internet spend so much time getting wrapped around the axle of "this is a serious gun?"
I have a theory. I think it's because in general, the gun internet has lost its collective sense of humor. Sure, there are still a few people who can unclench a little bit, but the rising wave of Uber-Tacticality that's dominated the landscape has complete erased the concept of "fun" from the shooter's vocabulary. If you're not dry firing for your next match, you're doing it wrong. If you're not training for a Sentinel Event (sorry John) you're doing it wrong. Hell, I fall prey to this mindset all the time. I'll go to the range and think "I need to work on this or that skill today and really bear down and focus" – which is all well and good, mind you. But sometimes you just want to do mag dumps with a shotgun because you can.
Lately I've noticed an even weirder reverse trend; since everything became uber-tactical and covered in Molle and rails, people would compete with each other online to see who was the most tactical. When that became gauche, people starting competing online to see who could APPEAR to be the least tactical, while still being tactical. "I don't wear tactical pants anymore, they mark you as a gun owner. I only CCW in jeans and nikes with a ratty hoody on so I don't stand out. #greymanoperations" – it's bewildering to me, until I remember that the internet exists so people can argue about who's better at stuff. Which is fine and everything.
Unfortunately, this leads to a real problem. Because some things are more serious than others. The gun that you use to defend your life or your home should be serious, and it should be well thought out and trained with. That doesn't mean you can't have fun shooting it, but it should definitely be something that works. This is where the problems start. Let's take two examples here: I would rather someone use side by side shotgun made by a reputable company for home defense than a Kel-Tec KSG. Why? Because the KSG is fundamentally unserious. It's a bad design from a gun maker whose quality is spotty on their very best day. A side by side shotgun probably isn't the best choice, but if it's reliable and you can handle it well, it's better than a gun that looks better on paper but might crap out when you need it to work.
Let's take it back to the Ruger Vaquero. It is not the best choice for concealed carry. But it's accurate, reliable, and a well proven gun. I'd rather someone carry a Vaquero than a lot of guns, because the Vaquero is probably going to work when they need it to. That's really what makes a gun serious – it's going to work when you need it to. If you have a gun that you never "need" to work, it doesn't matter if it's reliable. Fun range toys are great, and there's a world of options out there. Just don't go being a tool on the internet about it.