This weekend, as I was sitting in dangerous gun free zone eating mediocre chicken wings and drinking mexican beer, I started to idly wonder to myself which shooting sport is most relevant to real world CCW. But as I went further down that rabbit trail, I realized that an even better question is which division of which sport is most relevant to the type of guns and way people carry them right now.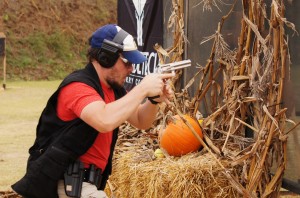 For the sake of this post, we'll confine our discussion to the two major pistol only sports: USPSA and IDPA. The USPSA divisions up for consideration are Production, Limited, Limited-10, Single Stack, Revolver, and Open. IDPA divisions are Custom Defensive Pistol, Enhanced Service Pistol, Stock Service Pistol, Back Up Gun, Stock Service Revolver, and Enhanced Service Revolver. Right off the bat we can make a few obvious cuts: all of the revolver divisions are out. Sad to say it, but most people aren't carrying wheelguns these days, and I'd wager that the preponderance of wheelguns that are carried fall under the BUG definition.
Up next, we can cut Single Stack and CDP from the list. Not because people don't carry single stack guns, in fact a lot of people love 1911s. But again, what we're looking for here is a division or divisions that are representative of what most people are carrying. For the same reason, we can cut Open out of this list. While red-dot guns are getting more and more common, they're not carried by enough people to really be a huge market. The people who do carry them tend to be pretty serious shooters and invested in their training, but again, there's not that many of them. I should ad that the number of people putting lights and lasers on their guns is also increasing, and if I revisit this post in five years, I may have a different conclusion on Open. Now we'll turn to the Production/SSP conversation. I want to strike Production and SSP from the list for one reason: magazine capacity limits. Who actually owns a Glock 19 and only carries it with 10 rounds in the gun? No one. You load that sucker all the way up. For the same reason I'm going to kill ESP and L10, because if you're talking about real world concealed carry, no one intentionally downloads their gun to 10 rounds.
So what are we left with? Well, we're actually left with the two divisions I think represent concealed carry the best: USPSA Limited and IDPA BUG. When I watch trends in the shooting sports, I see two big pools of carry guns: small, pocketball guns in 9mm, .380 or .38 Special, and serious mid-to-full sized carry guns like M&Ps and Glock 19/17. IDPA's BUG division really does represent what a lot of people carry every day, small, lightweight easily concealable guns like the M&P Shield or the Ruger LCP. Those are "real" carry guns, as evidenced by the sales numbers that you see reported by the companies that are making these little carry guns.
Limited makes sense for the same reason, but at the opposite end of the spectrum. These are the "serious" concealed carry/shooting people, they carry guns that are modified in ways that might make them illegal for Production, they load their mags all the way up, and more and more are turning to appendix carry. What division of the shooting sports lets you do all of that? USPSA Limited. If you want to shoot exactly what you carry, and you don't want to download your gun or carry something that fits into a narrowly defined set of "Production" rules, you shoot Limited. You carry a Glock 22 AIWB with extended mags? Limited. Got your gun stippled a little too high? Limited. In fact, it's even legal to shoot Limited with a light attached to your gun, so long as you pull the bulb, then it's just "weight" which is also legal in…Limited.
It seems weird when you really think about it, but I really do believe that the two shooting sports divisions that best represent CCW are BUG and Limited. They're at opposite ends of the spectrum for sure, but they're the places where your real world carry gun and gear is most likely to find a home.