Steel Challenge wrapped up over the weekend, and the good news out of the gate is the match had much better attendance than I'd anticipated. It did well enough that we will likely see a 2015 match, which as I've said before is a good thing for the shooting sports. Here's a by the numbers look at the divisions:
Open: 60 shooters
Limited: 32
Revolver: 13
Production: 18
Single Stack: 6
Total centerfire entries: 129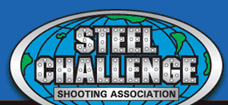 The overall winner and Open champion was Max Michel, Dave Sevigny won Limited and Steel Master, Phil Strader won Production, and Jessie Duff won high lady.
In terms of attendance, this match was an improvement over 2013 in Frostproof; although it was a little bit behind 2012's Frostproof match. For the sake of comparison, I'm only comparing centerfire entries. The 2014 match added rimfire rifles to the entry list (which is pretty cool, actually) so their number of rimfire entrants was reasonably impressive, 74 shooters across all rimfire categories.
To take a balanced look at the match, it's good that attendance was up, although a savvy eye would note that not by much and that entry fees were cut drastically. There were complaints from the shooters that the targets weren't reactive enough, and it was difficult to differentiate a hit on the steel target stand from an edge hit on the steel plate itself.
Not having been to the range myself, I can't comment on the facilities or the awards ceremony, but I would welcome emails from anyone who was to [email protected] – or just leave a comment. I'm curious because I believe that "feel" is important to big matches, and that World and National matches should feel special.
The question behind all of this remains: is this enough to save Steel Challenge? I've been reading USPSA's tax returns lately, and the National level matches are the biggest single thing they spend money each year, even more so than payroll. Is the juice worth the squeeze? Obviously, USPSA would never stop running the USPSA Handgun Nationals, but for only 130 shooters, does it make sense for them to keep putting on a World Steel Challenge every year? Or would it make more sense to move it to a bi-annual event, and let the Titusville Steel Nationals be the "big" annual steel match.
The sport of Steel Challenge likely isn't going anywhere. Shooting steel is just too much fun. I'm glad to see that the WSSC improved attendance over last year, because if they'd had less than 100 shooters at this match, I would have put a nail in the match's coffin. I think the match is on life support, and that the 2015 match will need to continue the pattern of growth. For my part, I'm going to do everything in my power to make it to Steel Challenge in 2015.