Cracked has an article about Open Carry Texas. I agree with the general points made in the article, and it illustrates the biggest problem I have with Open Carry: the actions of a few extreme actors come to represent gun culture as a whole, and they're hurting the cause. It's almost like I said something along these lines yesterday:
When Open Carrying, whether I like it or not, I am acting as a representative for literally every other gun owner on the planet by virtue of carrying my gun where people can see it. That is quite a lot of responsibility.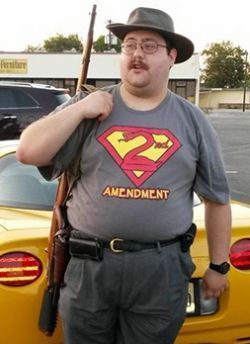 This is what I struggle most with during the OC project; despite the fact that I had another uneventful OC day, and I actually find that method of carry to be quite comfortable. I don't want to be that guy, and I worry that their attention whoring antics have spoiled the pot for the rest of us. Because when Cracked and Bill Maher are talking about OC Texas and I agree with them, you have a serious problem. That's a major image problem, and it's not one that is going to go away unless the mainstream firearms community does something about it.
But what can we do? All too often, we're quick to eat our own for any perceived deviation from ideological purity. I think that two things are important: first, we have to reinforce in communication with regular folk that those guys don't speak for us. They don't speak for the majority of OC advocates even, and holy shit how bad is that? When regular OC advocates are all "hey bro, maybe you should calm down" you are definitely not walking the path of righteousness. The second thing to remember that it is on us to act like responsible gun owners and be good, positive representatives of the community when we're interacting with people who know we own guns. Regardless of whether you're open carrying or not, I cannot stress this enough: be a good ambassador. Don't be that guy.
I'm going to keep Open Carrying, because these articles are interesting, and they've made me even more sensitive to this issue. I'm responsible, I'm well dressed, I'm using a good gun in a proper retention holster. I don't want to get lumped in with those clowns, and I don't think you want to either.