In the wake of the spree killing in California, there has been considerable discussion online and in the media about violence towards women. This is somewhat odd, since 50% of the killer's victims were male, but whatever. Because his manifestos were littered with rants against women, it has become quite a topic of late. One of the things that's caused me no small amount of consternation has been the topic of victim shaming/blaming. For those not hip to the lingo, victim blaming is pretty much what it sounds like, blaming the victim of a crime for allowing, or encouraging the crime to happen. An example that's cropped up recently: "she deserved to get raped because she was dressed like a slut."
The reason this has become frustrating though is that of late, even making reasonable suggestions about situational awareness and self-defense are immediately shouted down with "victim blaming" regardless of whether or not that's the case or intent. As an example, I was discussing this topic somewhere else, and suggested that perhaps a young lady should not be walking home by herself at 2am with her face buried in her iPhone, all while drunk. I was immediately accused of victim blaming, when in reality the point of that is suggesting that being drunk and walking home alone at 2am while not paying attention your surroundings is stupid regardless of your gender.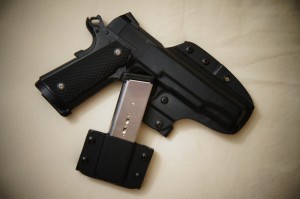 The problem of course is that there is a huge difference between victim blaming and suggesting reasonable precautions. No one says that you're "contributing to the car violence culture" if you tell someone to look both ways before they cross the street, but if you tell a 24 year old woman that maybe she should take her iPod earbuds out when she's walking home at night, you're contributing to rape culture.
Here's the part where I get personally frustrated: the sort of advice we're talking about here is completely gender neutral. I don't care what sort of equipment you have downstairs: Don't do stupid things in stupid places with stupid people at stupid hours of the day. To paraphrase a comedian, no one ever took 400 dollars out of an ATM at 2am for something good. When you're out in public, regardless of the time, pay attention to what's going on around you. There are times and places where it's okay to go into condition white, however on a public street feeding a parking meter isn't one of them. It's shocking how completely oblivious so many people are to their surroundings. Get your head out of your phone, look around. Earlier this year, I went and visited the campus at Purdue; just to see what had changed in 10 years. Campus looked largely the same, but the students were different. Even as little as 10 years ago, not everyone had cell phones. The iPhone didn't even come out until 2007, kicking off the smartphone revolution. But on campus, it was weird – every single student we saw was walking around with his or her head buried in their phones. Except for the two guys on skateboards, who were quite situationally aware, actually.
This is a frustrating rant. It reflects my frustrating with the nature of the online conversation in many places, where "PLEASE STOP" has replaced reasonable conversation, and where people are more concerned with confirming their biases than listening to other people's opinions. It's honestly why I rarely engage in discussions online any more; it usually ends with two people, myself included, unwilling to compromise in any way for fear of losing imagine internet points.
On the topic of self defense, I'll repeat myself from earlier. Regardless of whether you're a hulking power-lifting dude, a shredded Crossfit lady, a 90-pound weakling, or scientifically enhanced blonde woman, this advice applies across the board. Don't do stupid things, at stupid hours of the day, with stupid people, in stupid places.