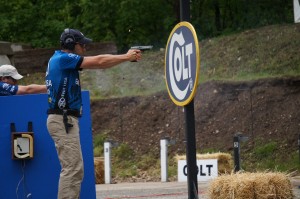 It's finally happened. Your husband/boyfriend/life partner finally agreed to come to the range with you and try their hand at shooting, and they loved it! Now they want to know what gun to buy. How can you help him through the process of selecting his first handgun, without all the information becoming too intimidating?
Start by finding out what he likes. Let him try a few different firearms out, maybe taking advantage of the rental counter at the local range. You may want to take note of any difficulty he has with certain firearms, some men are just too strong and might break a slide while trying to lock it to the rear, and others may be confused by the many moving parts of a semi-automatic pistol. If either of these are a problem for your man, a nice, big revolver may be the perfect gun for him.
Remember that your man has bigger hands than you, and may have difficulty holding smaller firearms. Steering him toward larger guns may help him avoid the feeling of frustration from small grips or controls that just aren't built for his meaty paws.
To help him know he is not alone, and there are plenty of men out there on the range, you should point out local male trainers, show him male-oriented gun blogs, and be sure to let him read the "Men's Section" in your favorite firearm magazines. These are all designed for men to feel more comfortable while shopping for a firearm, and will provide valuable information for him that we, as women, may not be aware of. There are also plenty of male competition shooters out there that are strong, responsible role models for our sons as well!
At the end of the day, remember the most important thing is to let him choose, and let him choose something he enjoys to shoot. With the right firearm selection, and some good training, the two of you will have plenty of happy range dates in your future!