Video games have been a huge part of my gun ownership experience, even since I was a little kid. While I couldn't run out and buy the Stormtrooper carbine in Dark Forces, a little known LucasArts shooter called Outlaws helped fuel my love of western guns even to this day. In fact, the first shotgun I bought was a single shot NEF specifically because they had a single shot break action in Outlaws.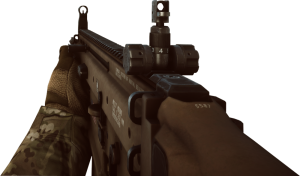 These days, I find myself doing the reverse. Instead of letting video games drive my real life purchases, my real life shooting habits are informing how I set my guns up in video games. Specifically, Battlefield 4. The way the game's mechanics work allows you to customize your rifles, shotguns, carbines, SMGs, sniper rifles, DM Rifles, basically everything. If you look at my rifles, they're almost all outfitted the same way as my real guns:
Light/laser
Fixed magnification optic (such as an ACOG)
Muzzle brake
Some kind of handstop/foregrip/AFG
It's interesting, because there are times where my set-up isn't "optimal" for the way the game's combat system works, but I don't care. I wouldn't run a soup-sandwich rifle with a heavy barrel and a magnified red dot, because that doesn't make any kind of sense. A 3x prismatic optic on the other hand makes all kinds of sense to me. Maybe I'm just weird, but I can't bring myself to set up an imaginary rifle in a way that I wouldn't set up a real rifle.
Is that weird?