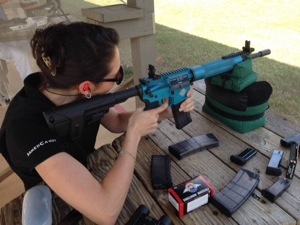 When I built my tactical turquoise AR-15 last year, I had no idea that this year I would be preparing to use it for a 3gun competition. What I built is a fun, pretty gun, that is nice and light and easy for a beginner to pick up and try out. However, I have a feeling some changes should be made.
Currently, my AR has a 14.5″ gov't profile barrel with a 2″ compensator pinned to it. The gas system is mid-length as is the free floating hand guard. I installed very little Picatinny, but now have backup front and rear, flip up sights and a tiny Burris red dot attacked to the upper reciever. The lower is billet with a deluxe LWRC kit installed. The Ergo grip and Mission First Tactical stock are still my favorites. I doubt those need changing, but I'm questioning almost everything else.
So what do you think? I've been told that a competition trigger is a must. What weight would you consider "best" and let's talk "favorite" brands. I am questioning the need for a longer heavier barrel and a serious muzzle device. This would probably mean the need for a whole new upper, but I am looking forward to your input before I get started.