If you follow my Facebook page, you'll know that I recently added a new member to the team. He's a boxer/pitbull mix that we named Ruger, because that's just a great name for a dog.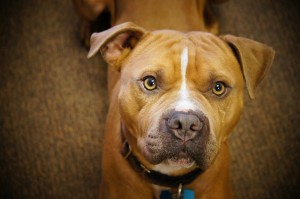 This brought up an interesting conversation on lethal force, pets, and animals. There are a lot of different directions to go with this, and we'll probably revisit this conversation again later. There are four parts of this topic that I've identified:
Using force to defend your pet from other animals
Using force to defend your pet from people
Using force to defend yourself against someone's animal
Using force to defend yourself against an animal's owner
There are sub-tangents in those, but today I want to tackle number one and two. I'm doing this with the clear statement that I am not a lawyer, so what I want to do is have a discussion of deadly force and provide you with my opinion, based on conversations and research. Definitely not legal advice. So first we'll look at defending your pet from other animals.
There roughly two categories of "other animals" that could attack your pet. The first are actual wild animals, such as coyotes, mountain lions, racoons, etc. While there may be game regulations around shooting those animals, generally speaking if they're on your property and attacking a domestic pet you're probably okay. Note the qualifiers "generally" and "probably." Be knowledgeable of your local game ordinances. A far more likely scenario is that you'll be out walking your dog (or cat, if you're a weirdo because who walks their cat) and encounter an aggressive off-leash dog whose owner isn't paying attention.
Again, in general most deadly force statutes allow you to use justifiable force in your own defense or the defense of other human beings. While letting an aggressive dog run around off-leash is irresponsible, it is quite likely not a legally justifiable reason for you to draw your gun. Don't shoot people's dogs unless that dog is presenting a credible threat of danger to you or someone you're with. This is however a good reason to carry some sort of OC/pepper spray. Pepper spray is a very effective deterrent against hostile dogs, frequently moreso than it is on humans. If your dog is being charged by an aggressive off-leash dog, it's a much better choice for everyone involve to OC the dog.
Now, the hard part. Defending your dog against hostile people. My dog is a pitbull, which means he attracts attention from people who would like to use him for things that are frequently illegal. If I'm walking with my dog on a leash, and someone attempts to attack my dog/steal my dog, they would have to also inflict considerable injury on me, because I don't want my dog stolen. In this case, you're looking at someone committing assault and robbery against you, regardless of the item they're attempting to steal. If you're in credible fear of death or grievous bodily harm in that situation, then you are likely justified using deadly force.
The items discussed today are pretty straightforward. To condense them to basics guidelines: 1) Don't shoot other people's pets, no matter how undisciplined they are, and 2) If someone is attacking/stealing your dog while you're walking the dog, they're probably attacking you too.
Again, I'm not a lawyer. These are my opinions, not sound legal advice. Don't go around looking for people to shoot. Every gunfight that never happens is a gunfight you won.