If I use the term "gamer" as an adjective for a firearm, a modification to a firearm, or an accessory for a firearm, what definition pops into your mind? Exact definitions may vary, but I'd wager few would view the term as a positive description. Typically when you hear someone referring to something as "gamer" gear, it's said almost through clenched teeth like they're spitting the word out in contempt. The implication is that "gamers" aren't serious, and therefore their equipment is goofy, problematic, and counterproductive…but is that really the case?
When you look at the upper echelon of the shooting sports and what it's typically taken for the people in that top tier to achieve that level of success, it's rather difficult to argue that those people aren't serious about what they are doing. I've interacted with a few famous competitive shooters and I've never come away with the impression that they are some clueless jabroni who just has a trick gun. I may not agree with everything they do, but spend any time talking to a Rob Leatham, Bob Vogel, or Jerry Barnhardt and it's crystal clear that they've invested incredible time and effort into what they're doing. There's thoughtful analysis, useful practice, and fastidious attention to detail behind their achievements. The same can be said for shooters who don't necessarily belong to the Super Squad. There are a bunch of really good shooters out there who may not have won a major championship yet, but will still easily clean the clock of 99.99%+ of people who will ever pick up a firearm in just about any measure of shooting skill.
The thoughtful analysis and fastidious attention to detail goes beyond technique and into the equipment that they use. You won't find anyone who is serious about competition shooting that isn't also knowledgeable about their equipment and why they are using it. The idea that competitive shooters don't know about gear is specious…they know their gear very well and they can usually explain exactly why they are using X vs. Y.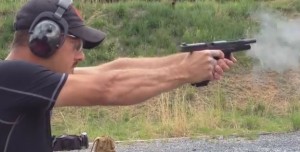 When I say "their gear" I'm referring to using firearms, modifications to firearms, or accessories that are suitable for the goal they are working towards. Competitive shooting, whatever form it takes, is specialized and typically you see specialized weapons and equipment tailor made for the discipline. Olympic skeet shooters tend to use expensive, specialized over and under shotguns customized to their specific physiology. Kim Rhodes' shotgun is set up for her measurements and her shooting style. She's not dependent upon that shotgun to hit a target. It's been set up to hit flying clay discs reliably and optimized for her particular needs in the demanding environment of skeet competition. (Anyone who thinks it's not demanding should be able to easily go out and being home a gold medal, right?) The gun has been set up to allow her the best possible performance in her sport. It's "gamer" gear, but there's nothing haphazard about the gun itself or her decision to use it. A custom Perazzi is a damn good gun. I'd love to own one.
…but it's not the gun I would reach for if I was trying to breach the doors of a building to go deal with an active shooter.
The dismissal of "gamer" gear often comes from the "tactical" side of the house which is quick to point out that equipment specialized for competitive endeavors is often inappropriate or even counterproductive for use on the two-way range. This is certainly true, to an extent. Ms. Rhodes' shotgun is a fine weapon, but no infantry platoon on earth would be better off with her shotgun than a decent belt-fed machinegun. Similarly, Ms. Rhodes would find an M240 to be particularly ill-suited for her purposes in the Olympics. We all recognize equipping an infantry machinegunner trying to achieve fire superiority with a double-barrel shotgun or an Olympic skeet shooter trying to hit clays with a belt fed as a silly exercise. (Although belt fed machinegun competitions would make the Olympics more awesome) It's clearly the wrong tool for the job.
Does it follow, then, that every bit of equipment used in competition is unsuitable for consideration by people who are primarily concerned with using a firearm as a tool of personal defense? Nope. Understanding what's what first requires understanding the frame of reference for competition gear and how it differs from requirements for defensive gear.
…which we'll talk about next time.