When IDPA released the new rulebook, one of the sections that got major attention were the holster rules. It had always been a bit murky on what was legal or what wasn't, so IDPA went to great lengths to clarify legal vs. illegal holsters.
8.5.1.17. For male shooters only, the holsters must fit the shooter's body such that a ¾ inch/19.1mm diameter dowel placed between the shooter and the firearm anywhere above the belt contacts both the shooter and the firearm simultaneously.
If you'd like to test this at home, a 12 gauge shotgun shell is 0.75 inches in diameter. I decided to test my Blade-Tech holster to see if it was legal, and much to my dismay it wasn't. This isn't a knock on the gear, mind you – the way the rule is constructed is so that shooters of a certain body type will not be able to use holsters that other shooters who have a "width advantage" will be able to use. Here's my currently illegal IDPA holster: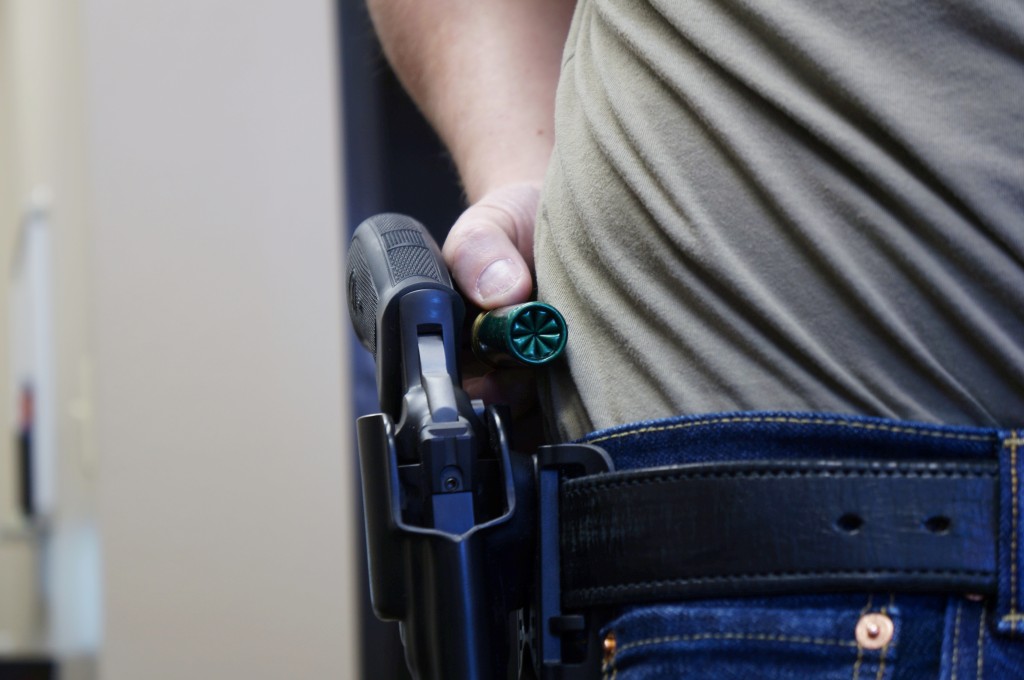 As you can see, the shell is nowhere near the gun, and even if I run it down closer to the top of my belt, it never contacts both the gun and my body at the same time. That leaves me with three options:
Get a different holster
Get fatter
Modify my current holster by shimming/flattening the belt attachment
I guess there's a fourth option, which would be "wear the illegal holster anyway and hope I don't get caught", but writing a blog post about it probably killed that one. My plan right now is to have Blade-Tech make me a different holster that would be IDPA legal, and then work with them to modify the existing holster so it's closer to compliant with the rules.
Now, on to the rule itself: some would argue that this rule unfairly penalizes people who are skinny/fit by now allowing them to use these holsters. That's a bunch of nonsense if you ask me. The rules are the rules, and if I can't use this holster because my doughnut intake isn't sufficiently high, than I'm okay with that. Using a tighter holster to the body gives up a few hundredths of a second on the draw, and while athleticism normally isn't that important in an IDPA match, this is one case where I can make up 0.05 seconds by being a bit quicker.
So if you have a major IDPA match coming up, now's a great time to check your gear. Grab a spare 12 gauge shell and make sure you're within the 0.75 inch rule on your holster and magazine pouches, but only if you're a dude. This rule doesn't apply to the ladies because hips don't lie or something.
Take note: here is the same model of Blade-Tech holster, but with a different gun, this time it's a Sig P220. Note that this configuration on the same shooter is perfectly legal:
So far, the only holsters on which I've encountered the issue are the pictured revolver holster and one Comp-Tac 1911 holster. Just check your gear before your next match!