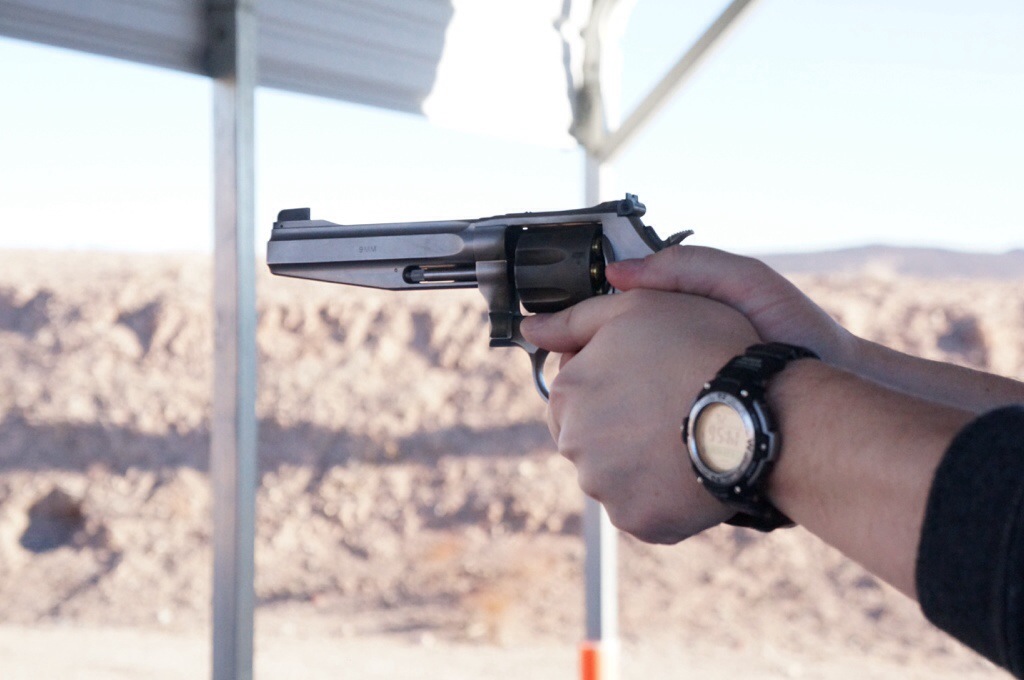 Earlier this year, Smith & Wesson announced two new 9mm revolvers. First announced was the 929 Performance Center gun, an 8-shot N-frame revolver designed with input from Jerry Miculek. Today we're doing a review of the Smith & Wesson 986, the second gun announced. The 986 is a seven shot 9mm on S&W's L-frame, which means that holsters for you other L-frame guns like the 686 will work for this.
The 986 features a five inch barrel, titanium cylinder, patridge front sight, adjustable target rear sights, and of course is cut for moonclips. The DA trigger is heavy but smooth, exactly what I expect from a Pro Series revolver. There is no grit, creep, or stacking whatsoever, making DA shots pretty easy even with the factory trigger. The SA trigger is light and crisp, again exactly what I'd expect from a Pro Series gun.
What I like
It's accurate and easy to shoot. The S&W guys let me shoot way more of their ammo than they should have, so I was able to get a solid idea of how well the gun runs. I could hit an IPSC torso target at 100 yards 4/7 with the 986, and shoot tiny little groups all day long. I like how clean the DA trigger is, and the sights are perfect for Bianchi Cup shooting.
The loading and unloading is great. 9mm cartridges have a short OAL and slide easily into the cylinder, the moonclip keeps them all together for positive ejection. Also, the moonclips are just the right balance of rigid and allowing cartridge movement, which makes loading even easier.
What I don't like
I don't really like the factory grips. Finger groove rubber grips on a Pro Series gun seem out of place, and I would like to have to seen this gun offered with the excellent stocks from the 686SSR. The trigger is a little heavy as I mentioned, but that's nothing that can't be cleaned up by the lads at Apex tactical.
the verdict
Looking for a revo for Steel Challenge or Bianchi Cu, but don't want to break you bank on a full Performance Center gun? The Smith & Wesson 986 could be the gun for you. I was absolutely impressed in my range session, and thing that S&W has a winner on their hands.