I got the idea yesterday evening for a photo series called "Blue steel and brown liquor," featuring classic old guns and great booze. I posted one of the photos on our company FB page and was surprised by the instant backlash. Here's a photo from the series: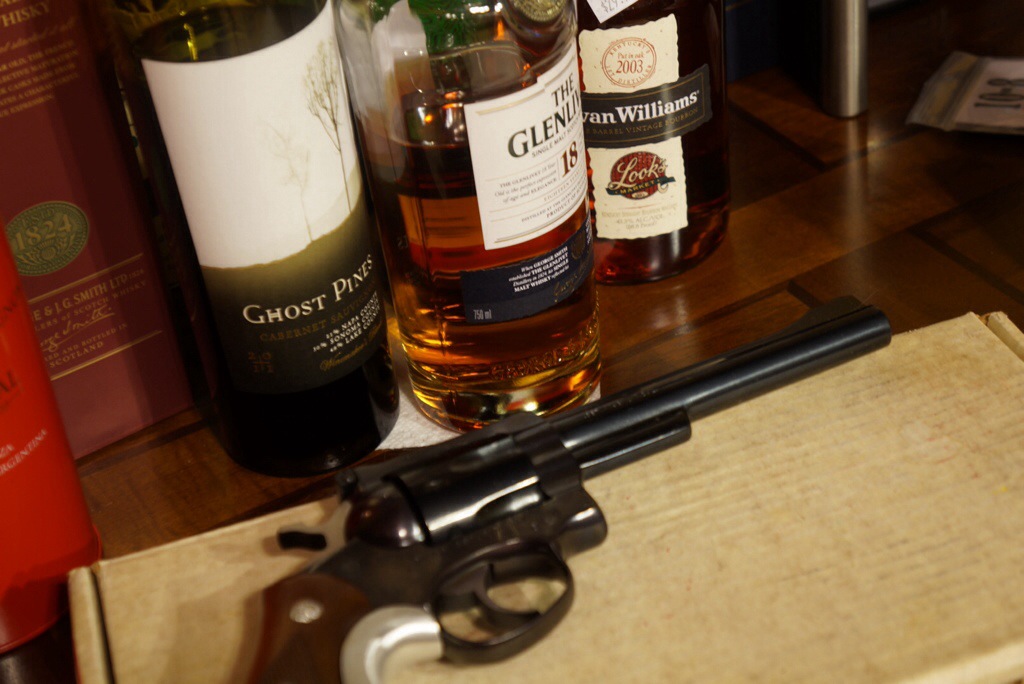 Now, what surprised me about the backlash is that people took one look at the photo and immediately said "GUNS AND ALCOHOL DON'T MIX THAT'S A TERRIBLE PHOTO". I was perplexed by that reaction, because nowhere did we say "hey, let's get drunk and go shooting," all we did was post a photo of a blue revolver and some great brown liquor. But people jumped to the conclusion that we're advocate for drinking and shooting together based on…nothing.
That escalated to people saying things like this photo was "giving ammo to the antis" which finally broke my personal threshold for annoyance, and I started deleting comments. That's really what prompted this post and its title – the fearful mindset.
I have noticed of late that many pro-gun people are so afraid of "giving ammo to the antis" that anything that isn't a perfect picture of gun safety is immediately decried as terrible and unhelpful to the cause. It comes from good intentions, because I agree that we shouldn't post pictures of people doing unsafe things with guns, or doing illegal things with guns, or acting in a threatening or unsafe way. I'll never post a picture here or on Facebook of a shooter actually firing a gun without ear protection, or someone standing around with their finger on the trigger.
But at the same time, there needs to be a line and an understanding that we shouldn't live in fear either. I'll use the example of guns and alcohol because it's appropriate to this situation. I would never say that you should drink and shoot. I don't recommend drinking and carrying, just like I wouldn't recommend drinking and driving. A bad example would be if I posted a photo of someone chugging a beer and open carrying with the caption "looks like a good time." That would never happen, because it's a bad example. But I think it's important to realize that sometimes a picture is just a picture.
We often have a very sheltered mindset in the gun community; we're so afraid of looking bad to the public that we proactively decry stuff that may not need to be called out as bad. Is a photo of guns and booze contriversial? Of course it is; that's why I posted it. But it's also not hurting anyone, and as long as it's not suggesting that drinking and carrying is acceptable, perhaps we as a community can be upfront about the fact that many of use enjoy guns and brown liquor.