Everyone should have a laser on their defensive handgun. Rifles too, because a rifle with a laser on it is super quick in CQB situations. But rifle lasers are another post entirely, and have to deal with other issues that are beyond the scope of this post. Here we want to deal strictly with handgun lasers.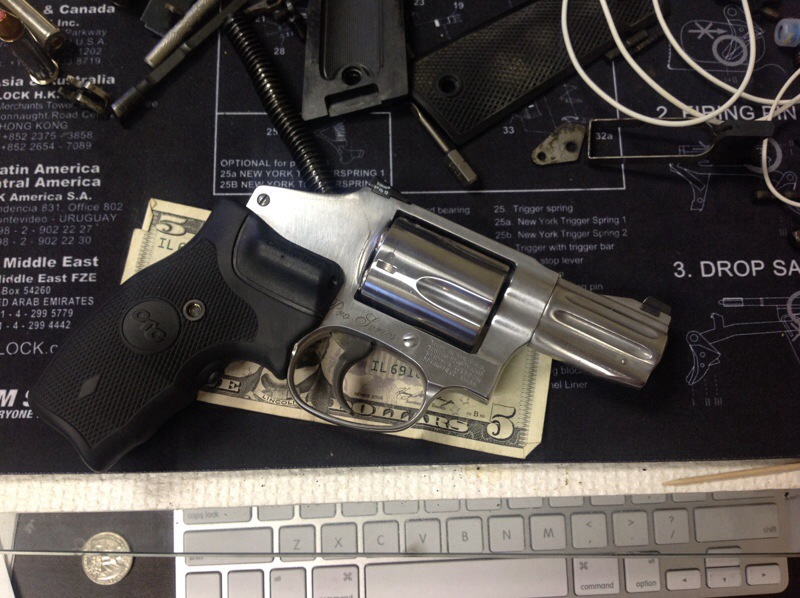 The king of the camp of handgun lasers are the Crimson Trace Lasergrips. They provide the most important aspect of a defensive handgun laser, which is instinctive activation. When you naturally grip the gun, the laser activates. Simple as that. If you're worried about light discipline, on many models you can block the beam emitter with your index finger (if you're right handed). A great advantage of the Lasergrip design in addition to the instinctive activation is that you don't need to buy a new holster to fit your gun. The factory holster will continue to work just fine.
Second on the list are the Laser Guard products from Crimson Trace. These also allow for instant activation, but mount on a pistol's rail system. They require a new holster for your gun, but because the body of the device is a bit larger than with a Lasergrip, the 'Guard models can accommodate both red and green lasers, as well as weapon lights. A pretty slick set-up for a defensive M&P is a Lasergrip on the back, and a Lightguard on the front.
Recently, Crimson Trace came out with the Rail Master series of lights and lasers. These don't have instinctive activation, and mount on your pistol's rail. They're available in red and green lasers, and also as a weapon mounted light. I actually like the Rail Master series a lot better on rifles than I do on a pistol, because they're incredibly light and compact, but somehow are quite rugged as well. CTC also launched the Defender Series recently, which I know nothing about and have no recommendations one way or the other.
There are other companies that make laser products on the market. I have never used any products from LaserLyte, and have only used one product from LaserMax. I don't recommend them, not because I don't think they'd work acceptably, but mostly because why not just go for the best out of the gate? You'd be hard pressed to find a reputable industry expert that doesn't recommend having a laser on a defensive firearm, and most of them recommend Crimson Trace.