I really like revolvers. I like shooting them, I like carrying them, and I enjoy working on them. I also know that for modern self-defense, they're obsolete. That doesn't mean that they can't play a role in self-defense, but there's just nothing a wheelgun can do for general self-defense that can't be done better with a semi-auto pistol. Please, spare me the "but what if I need to shoot a bear" comments, because you all know that's not what I'm talking about. Wheelguns still rule the roost for hunting and backwoods use. This post is about the self-defense needs of the average person.
Strike 1: Revolvers are harder to shoot well
The trigger on my competition revolver is about 9 pounds, and it's very smooth. It is still harder to shoot that gun well compared to a bone stock Sig P226 or Glock 34. Both of which are smaller and weigh less than a GP100 or an L-frame Smith & Wesson. "But Caleb, what about K-frames?" Fine, your average K-frame is going to have a worse trigger and be harder to shoot well than a Glock 19 or an M&P.
The most common revolver for concealed carry are Ruger LCRs and Smith & Wesson J-frames. I have a J-frame on me right now as I'm writing this. It's an all-steel Model 640 Pro Series, which in my opinion is the best example of J-frame ever made thanks to its chamfered cylinder, good trigger, and quality sights. It weighs 1 pound 8.9 ounces fully loaded. A Glock 19 is about the same size and weighs 1 pound, 13.5 ounces fully loaded. It also has a better trigger, and holds quite literally three times the ammo that my J-frame holds.
Strike 2: They're not actually simpler than modern handguns
To load and fire my J-frame, I have to follow these steps:
1. Insert cartridges into cylinder (either with a speedloader, a speed strip, or one at a time)
2. Close cylinder
3. Pull trigger.
To load and fire a Glock 19, I have to follow these steps:
1. Load rounds into magazine (either by hand or using a mag speedloader)
2. Insert magazine into gun
3. Close/rack slide
4. Pull trigger
There's only one extra step, and that step is "loading the magazine". If the mag is already loaded, learning to fire a modern striker fired pistol takes exactly three steps. Semi-autos are even easier when you have to deal with reloading. Here are the reloading processes for both types of guns: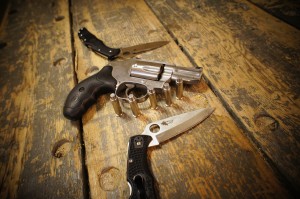 Revolver:
1. You either count five or six shots (depending on the gun) or you get a click when you're expecting a bang to tell you the gun is empty.
2. Open the cylinder
3. Firmly push the ejector rod to clear all empty cases from the gun
4. Insert new rounds into the gun, either with a speedloader, a speed-strip, or singly by hand.
5. Close the cylinder
6. Pull the trigger.
Semi-auto
1. Slide visually locks to the rear telling you you're out of ammo
2. Push a button to make the naughty mag go away
3. Put a happy magazine in the gun
4. Push another button to chamber a round
5. Pull the trigger.
There is less to do with a semi-auto, and I can tell you from personal experience, a lot less to go wrong during a reload with a modern semi-automatic pistol than there is with a revolver. I could describe a litany of little things that could go wrong during a revolver reload, but it would be so James May-esque in style that you'd all fall asleep.
Strike 3: They're not actually more reliable
Ammo is the number 1 cause of failures in modern semi-auto pistols. Ammo is also the number 1 cause of failures in revolvers. And while yes, a light primer hit in a revolver can be solved by pulling the trigger again, it's not like a tap-rack is magical sorcery that only be performed by Gun-Jedis of the highest order.
Gun Nuts Bottom Line: Revolvers are great, and I love them. I carry one every day and feel perfectly adequately armed with it. I also know that there are better, more modern choices out there for self defense. A new shooter would be much better suited with a Glock 19 or M&P than a revolver. If you think that semi-autos are "too complicated" for new shooters, than you need to re-examine your biases and stop treating people like they're idiots. Most people can successfully operate a smartphone and drive a car, both of which are more complicated than a Glock.