Except for when they do, and let me tell you when it happens it's pretty spectacular. Tam experienced a series of ammo induced failures to feed in her 870 over the weekend using cheapo-Wal-Mart ammo. The process for reducing the malfunction was fairly involved, and should be noted is a lot more difficult to clear than say, a jammed rifle.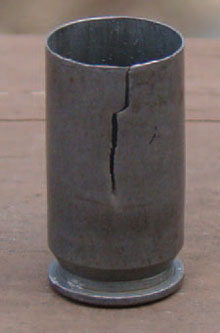 Similarly, when revolvers go wrong, it usually requires tools to fix them. I'll recount a couple of instances where I've had revos go down, the first was caused by the cartridge you see in this photo, a piece of steel .45 ACP. The case cracked and tied itself to the chamber walls of my S&W 625, the extraction process involved hitting the extractor rod with a mallet. The moonclip that was holding the cases together was irrevocably destroyed by this process.
Another jam I experienced was with an older S&W revolver, where while the cylinder was locked up in the gun, firing was causing the ejector rod to unscrew and back out. There was just enough room in the shroud for the ejector rod to back out far enough that it bound up the gun, making a trigger pull impossible. Fixing this one also involved mallets and carefully tapping the cylinder out of the gun so the ejector could be tightened down. Loads of fun, clearing that.
I can't confess to personally tying up pump guns, however I've seen it happen with other shooters. A simple mental mistake can cause a fairly difficult to clear issue with a pump gun; for example a shooter at M3GI running a pump accidentally tried to double load the gun by putting a round in the chamber on top of the round that was on the lifter, then slamming the action forward. That was complicated, to say the least.
The truth is that in this day and age, most modern production firearms are going to be more than reliable. Revolvers and pump action shotguns are still excellent choices for self-defense, but these types of guns are frequently presented as "good guns for newbies", when the truth is anything but that. Think about it for a minute regarding revolvers: they hold less ammo, and are harder to shoot well and reload quickly than a modern semi-auto pistol. When they break, it requires tools to fix. A mid-to-full size semi-automatic pistol in 9mm is probably a much better gun for a beginner than a revolver.
Similar logic applies to a pump action shotgun as a home defense weapon. Yes, it's the single most destructive weapon-systems the individual operator can put into play, but it's also hard to shoot well, doesn't hold a lot of ammo, and when things go wrong they go wrong quick. Why would you recommend a shotgun for home defense when an AR15 is easier to operate, easier to shoot well, and holds 5 times the ammo?