Today's big news in the shooting sports is that Randi Rogers, the marketing manager at Comp-Tac and formerly of Team Glock has been signed with Team Smith & Wesson as the newest member of their shooting team.
Randi will join Team Captain Julie Golob and fellow team mates Jerry Miculek and Doug Koenig in representing Smith & Wesson in the action shooting sports. Randi has an excellent track record in IDPA and USPSA, and this year began to expand her shooting into 3-gun as well, competing in the AR15.com Rockcastle ProAm match, one of the most popular 3-gun matches in the nation.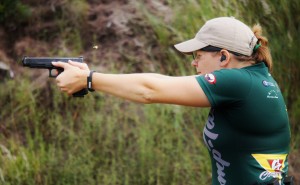 The timing couldn't be better for Randi to join Team Smith & Wesson, as she brings a breath of fresh air and new blood into a team that was once the most dominant team in the shooting sports. Many shooters remember the halcyon days of Team S&W during the mid 2000s, as their large group of sponsored shooters racked up titles, category wins, and awards left and right. They were also one of the most pioneering teams on social media, using those titles and wins to grow a large and dedicated fanbase that served as an excellent marketing and promotional network for the (at the time) new M&P pistols.
Randi is in the midst of an impressive 2013 shooting season, winning the first ever Ladies' category in Production at Bianchi Cup, finishing 3rd lady in Open at Steel Challenge, and winning high lady at the 2013 Carolina Cup and 2013 S&W Indoor Nationals. While there's no official word yet, it's a safe bet to assume that Randi will be campaigning one of Smith & Wesson's M&P Pro pistols in 9mm for the upcoming IDPA Nationals next week in Tulsa, OK where she's the favorite to win High Lady at that match.
For more shooting sports news and info, make sure to subscribe to GunUp the Magazine!