Ownership of NFA items is a small niche in the overall firearms community, but it's also a very profitable and growing niche. For those not in the loop, "NFA" stands for National Firearms Act, and "NFA-item" is a catch all term for various types of guns that are regulated by that act. Those guns include:
All civilian legal (pre-1986) machine guns/fully automatic weapons
Short barreled rifles and shotguns (rifles with a barrel length less than 16 inches, shotguns less than 18)
Any Other Weapons (a catch all for guns like Serbu Shorties, and other oddball stuff)
Suppressors
NFA also regulates some other stuff like destructive devices, but that's not within the scope of this article. The political purpose of the NFA when it was passed in the 30s was to effectively ban machine guns, SBRs, and suppressors from civilian possession by imposing a $200 tax on their ownership. Adjusted for inflation, $200 in 1934 would be about $5,000 today, which would make NFA items prohibitively expensive for the vast majority of casual owners.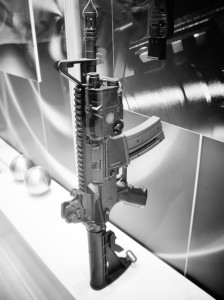 As mentioned above, in the past five years in the firearms community, there has been an explosion in NFA ownership, especially with regards to suppressors and short barreled rifles. Suppressors are great tools for introducing new shooters to shooting without needing ear protection in some cases, and short barreled rifles are handy defensive tools for civilian home-defense. As a nation, we're well past the days of Chicagoland gangsters shooting it out over booze with Thompson SMGs and short barreled BARs, so what can we do to get certain items off the NFA?
Be realistic
The first thing to do is set realistic goals. We are likely never going to get machine guns deregulated, because they're machine guns. Fully automatic weapons are quite likely a political no-go, so calling for the entire NFA to be tossed out the window probably isn't going to happen. But suppressors and short barreled rifles? That we could probably actually get to happen. I go back and forth on whether or not short barreled shotguns could make the cut, because on the one hand just like SBR it's simply an arbitrary length of metal. But the media has portrayed short barreled shotguns as these tools of massive death and destruction, and the pejorative term "sawed-off shotgun" resonates strongly with a lot of middle America. Short barreled rifles have never been really demonized, and instead the site of a (digital) SBR is quite common to the new generation of video game playing gun owners. So for the time being, I'd focus solely on suppressors and SBR.
Be willing to compromise
What would you be willing to give up to get suppressors and SBR off the NFA and treated like regular firearms? To be able to walk into your local fun-shop and buy the Walther manufactured Colt M4-22 SBR pictured and a Gemtech .22 LR can for it, and just have to fill out a 4473 and undergo a NICS check? There are some things I'd be willing to give up, and some things that I'd definitely not. But what sort of compromise would be a fair trade for deregulating the NFA?
I kick it around in my head, and the problem that I come up with is that there isn't a whole lot I'm willing to give up to get NFA items deregulated. Magazine cap limits? No way. Limits on CCW? Nope. What I would look at would be an expanded background check law – not the defacto gun registration proposed by the administration, but a law that says any private party transfers other than within families must be run through NICS, then set up a simple web service that allows anyone, for a fee of $20 to log in and run an electronic NICS check. Gun control-nazis get their universal background checks, and we get short barreled rifles and suppressors taken off the NFA. That is a compromise I'd be generally willing to accept, with the obvious caveat that the law has to be written well.
However, the reality may be that I don't need to accept a compromise on this issue at all. As we continue to advance the gun rights ball down the field, there is an ever-growing possibility that suppressors will be deregulated anyway. We'll have to see how that one plays out. What would you be willing to give up to get suppressors moved off the NFA and regulated like firearms (4473, etc)? What about short barreled rifles?