Everyone in the firearms community knows the famous quote from Han Solo in the first Star Wars film about how ancient weapons and hokey religions are no match for a good blaster. In the context of the film, Han is mocking Luke's lack of skill with the comparatively "ancient" lightsaber; Han rests comfortably in the knowledge of his own skill at arms with his pistol.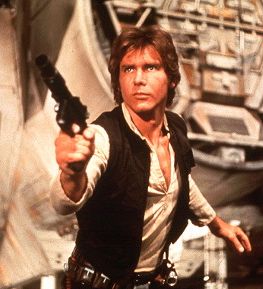 Over my relatively short time in the firearms industry, that quote has been trotted out to jokingly show support for the following guns: revolvers, 1911s, pump-action shotguns, bolt action rifles, lever action rifles, single action revolvers, side-by-side shotguns, and archery. I'm sure you've probably heard it too if you've spent any amount of time on the internet reading about guns. Another fun Star Wars quote frequently applied to the shooting sports is Obi-Wan's line about lightsabers being a more "elegant weapon" than blasters.
However, the Star Wars films fairly conclusively prove in the later episodes that Luke's ancient weapon (and his hokey religion, but I'll leave that discussion for the CaPC blog) are more than a match for good blasters and the modern technology brought to bear by the Empire. It could be argued that Luke's training and impressive skill at arms with his lightsaber is a deciding factor in the fate of the entire galaxy. Which brings us around in a fairly roundabout way to the point of this article, which is the relevance of seemingly archaic weapon systems in this modern era, specifically bolt action rifles.
Why bolt guns? Well, when you're looking at the relevance of modern firearms, bolt guns are the ones that for me are the hardest to justify. Pump shotguns are easy – they're more reliable than semi-autos and can use the widest range of ammo from less-lethal all the way to magnumturboturkeyslayer rounds. Revolvers? Sure, a little slow to reload, no less relevant for civilian self-defense now than they were 100 years ago. But bolt guns perplex me, and perhaps it's due to a lack of familiarity with the platform. I don't have a lot of stick time behind a bolt gun, so when I look at guns like the excellent Ruger Scout Rifle, I can't but help think "what does this do that I can't do better with a semi-auto?" Now, I should note that we're confining this discussion to civilian self-defense, because when you get into hunting and long range accuracy discussions, there are plenty of good reasons to get a bolt gun.
But in today's world of 6 pound AR15s with 30 rounds of Hornady TAP on board that will shoot accurately out to 500 yards, what's the point of the venerable bolt gun? Are they still relevant as self-defense tools in this modern age? The big problems that I see with bolt guns as self-defense tools are these:
Lack of capacity
Slower to operate
More complex to operate
I did a little research, and there are not any major rifle manufacturers making a bolt gun in .223 that accepts standard AR mags, which would address the capacity issue pretty handily. (Editor's note: when researching this article, we neglected to check Mossberg. Mossberg makes the MVP rifle, which is exactly what we're looking for) For a while, Remington made their pump-action 7600 rifle in .223 for AR mags, but it didn't sell well and was discontinued. Which actually is the crux of the issue, when you really get down to it. See, I like bolt guns, despite my general lack of trigger time on them compared to modern sporting rifles. I like the tactile sensation of operating the gun, I like the way they handle, in general they're just nice to shoot. So if, for example Ruger took their existing M77 Tactical in .223 and changed the magazine so it would take AR mags, I'd buy one right away. I think that's cool.
But the buying public doesn't. Why pay $1200 for a bolt action rifle when you can pay $800 for an AR15? Honestly? I can't think of a good reason, and that's why I think bolt action rifles have lost their relevance as a primary civilian self-defense tool.