SMYRNA, GA – GASTON J. GLOCK style LP, the purveyors of fine quality hunting and shooting sports apparel and accessories, is pleased to announce that the newest addition to their hunting apparel line, the Dark Green Hunting Jacket, is now available for purchase. Made in Poland from a cotton blend, the functional and durable summery Hunting Jacket is ideal for hunting in warmer regions, such as on a Safari in Africa. The Hunting Jacket comes with a wax finish that aids in protection from wind and other elements, yet retains its breath-ability making it ideal for summer or warm weather hunts.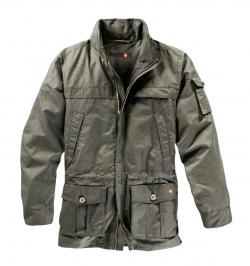 The Hunting Jackets contains many pockets that are perfect for storing essential hunting supplies. The Hunting Jacket includes two patch flap pockets with side openings and two inserted pockets, as well as two breast pockets, two interior pockets that offer additional room for personal documents and a large back pocket that can be reached from both sides and can accommodate many spare cartridges. The left sleeve also contains a small flap pocket.
In case of sporadic rain showers, the Hunting Jacket comes equipped with an emergency hood that is incorporated into the lower collar. The waist of the jacket can be adjusted with a drawstring and a mesh body lining ensure that the jacket fits perfectly.
The Dark Green Hunting Jacket is available for purchase on the website for $309.00 and comes in sizes S – 3XL for men and XS – 3XL for women.
About GASTON J. GLOCK style LP:
GASTON J. GLOCK style LP, headquartered in Smyrna, Georgia, is an online hunting and shooting apparel and accessories store built on the premise of providing customers with exceptional products made from natural and organic materials while enhancing their outdoor experiences. Gaston products are made by European and American craftsmen applying traditional craftsmanship to a whole new generation of outdoor enthusiasts. www.gastonglockstyle.com
Laura Burgess Marketing
Laura Burgess
PO Box 13978
New Bern, NC 28561
P: 252-288-5805
[email protected]
GASTON J. GLOCK style LP
3842 Highlands Parkway
PO Box D6
Smyrna, GA 30082
P: 678-236-9001
www.gastonglockstyle.com