"You're just some gamer who thinks that when the time comes, you'll magically rise to the occasion if you need to defend yourself."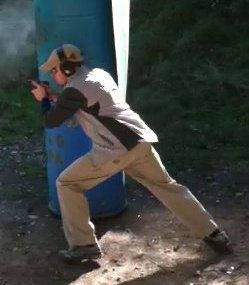 I've had that accusation leveled at me on a number of occasions by people whose interest in the shooting sports focuses primarily on self-defense or military/police training. Which is fine, because at least part of it is true: I am a gamer. I shoot guns not because I'm training for a defensive scenario, but because I enjoy the sport of shooting. So the accusation that I'm a gamer is absolutely true, because I play gun games. They're quite a bit of fun.
Of course, I also carry a gun for self-defense. Additionally, I wear a seat-belt, keep my tires full of air, and have taken at least one defensive driving course. I don't put air in my tires because I think I'm going to have a blowout, and I don't wear a seat-belt because I think I'm going to have a crash.
But to the latter part of the sentence, I also don't think I'm going to magically rise to the occasion if I ever need to use my gun as a civilian…because I don't really think about it. That's what that accusation really says to me – not that I'm a bad person, but that the person making the accusation spends a lot more time than I do thinking about "what if I get in a gunfight?" I guess I don't really worry about it, because the odds of me actually needing my gun in a self-defense situation are pretty low. I'm not saying that it's impossible, but it's not such a high probability that I'm going to spend a considerable amount of time thinking, or even preparing for it.
That's not to say that I think people should be underprepared. Only you can decide for yourself what the appropriate level of preparedness is. For me, I train with my guns so that I can shoot them better on demand. I stay alert, I don't go stupid places with stupid people and do stupid things, and for the most part I just don't worry about it. Life's too short to worry about whether or not I'm ready for a gunfight today, so instead I'll go for a run, drink a beer, and watch some Top Gear. In the meantime, I'll keep training to learn to shoot better, and let other people worry about fighting.