Another NRA Bianchi Cup is in the books. This is my personal favorite match of the year because it's the purest test of shooting ability out there (for iron sight guns). For me, this year was a real rollercoaster ride. I set some tough goals for myself coming into the match which I wasn't able to reach, and that's pretty frustrating.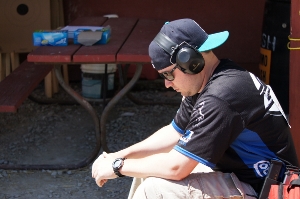 First, I have to take a look at my goals. I wanted to shoot a 1750 and finish in the top 20. Were those goals realistic? Certainly. Last year, I shot multi-gun aggregate, running the Tanfoglio Stock II in Production and Metallic. My Production score was a 1695, and since I chose Production as my "main" division, that was the only score that counts anywhere other than the multi-gun agg. However, I shot a 1757 in Metallic, with a 451 and a 470 on the Mover and Plates. So I knew coming out of last year that I had the ability to shoot a 1750 or better. Finishing in the top 20 would require a score of around 1750 or better in Metallic, so again, that goal was within my reach as well. 20th place at this year's match shot a 1755.
So what happened? The short answer is "I choked on the plates." On the Practical, the Mover, and the Barricades I shot decent enough scores, setting a main match PR on the Practical. I beat my Production scores from last year in all three of those events, but when I got to the plates, everything fell apart. At the first string at 15 yards, I left a plate standing. I let that plate get to me, leaving another one standing on the 2nd string. Knowing I had already dropped two plates got inside my head, and at 20 yards it was a total disaster. Out of 12 available plates I left 5 up. At 25 I was able to pull it back together a bit and hit 10/12, but by then the damage was done. My first two events (Barricades and Plates) resulted in a combined score of 814, which meant I'd have to shoot an average of 468 or better on both of my remaining events. After shooting a 443 on the Practical, 1750 was mathematically impossible.
My final finish was 25th overall and 2nd in my classification (side note: I'm pretty sure NRA has my classification wrong, but there's no way to check it). If I'd have shot, say a 460 on the plates instead of a 390, I would have finished 19th overall in Metallic and accomplished my 1750+ goal. It's frustrating to drop so many plates in the match after shooting a 470 in the aggregate match last year and averaging a 460 over the week of practice.
The question is now, where do I go from here? It wasn't my gun that failed, because the Colt CCG continues to be an amazing piece of hardware. The only real answer is to look at my mistakes and train harder. Am I glad I beat my main match scores in three out of the four events? Sure. But overall, I'm not pleased with my performance. I've shot this thing under match conditions and put up a 1757 before. I know I can shoot better than I did this year, and it's disappointing to come to my favorite match and not meet my goals.
My next big match is the Great Plains Sectional, first week of July. I've over a month to train up for that match, and I'll be using Mike Seeklander's competition handgun training program to do just that. Nothing washes away a poor performance better than hard training.