The post on "buying the right gear once" has raised quite a few questions about how we break ARs down into quality tiers, with several people pointing out manufacturers like Noveske and JP; rifles whose quality definitely exceeds the Colt.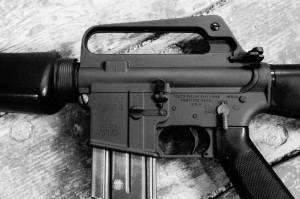 Because the current state of ARs is so great, with basically everyone making one, the team here at Gun Nuts views them like 1911s; while a Wilson Combat is technically a "factory gun", there's a world of difference between that and a major manufacturer production gun. So rifle makers like JP, LaRue, Noveske would be more analogous to Wilson Combat on our scale. Here's how we break the quality tiers down:
Premium/Semi-Custom: JP, Noveske, etc
Top Tier Factory: Colt, Daniel Defense, S&W, BCM
2nd Tier Factory: Bushmaster, DPMS, Stag
And so it goes on and on. Generally speaking, if you're looking for a gun to not mess about with and just take out of the box and shoot, the Top Tier guns are going to be good to go. They frequently don't offer as many options and configurations as the "premium" guns, but for a factory AR15 you'd be hard pressed to go wrong.
2nd Tier guns are probably okay for general range use, plinking, that sort of thing and may even hold up well to serious use, but you're more likely to encounter manufacturing issues on guns like these.
As far as where we'd classify manufacturer x or y, it's really impossible to quantify the quality of guns that we've not had through the office. I'm partial to Colts, Shelley's rifle is a DD, and I'm certain Tim and Gabby have preferences as well. I had a Stag that I liked just fine, but it wasn't as nice as Daniel Defense; so it goes down a tier. Our rating system isn't exactly what you'd call scientific, but sticking to it has kept me out of trouble more frequently than in.