Over the weekend, IDPA held the 2013 Indoor Nationals at the S&W facility in Springfield, MA. Over 250 shooters attended the match, which consisted of 13 stages (one of which was tossed).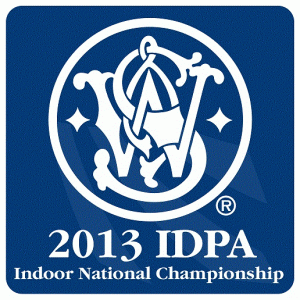 I didn't shoot the Indoor Nationals this year; while I had a good match last year and finished in the top 5 of CDP, I can honestly say that the thought of flying all the way to MA in the middle of January to shoot less than 200 rounds didn't really seem too appealing. Indoor Nats is a great match…but Massachusetts in February? Not so much. Here are the winners from the 2013 IDPA Indoor Nationals, with commentary after the results:
Custom Defensive Pistol
Dan Burwell
Glenn Shelby
Dave Olhasso
Chris Chamberlain
Craig Buckland
Enhanced Service Pistol
Brandon Wright
James McGinty
Morgan Allen
Gordon Carrell
Scott Warren
Stock Service Pistol
Bob Vogel
Rob Tate
Randi Rogers
David Dolio
Ricardo Zanotti
Enhanced Service Revolver
Jerry Miculek
Stock Service Revolver
Josh Lentz
High Lady
Obviously, it's no surprise to anyone that Bob Vogel won SSP again. His margin of victory over Rob Tate, who also took 1st Master behind Bob at the 2012 Nationals shrank a little bit, and his margin of victory in overall time was only 14 seconds or so this time. Brandon Wright continues to improve his performance in ESP, and as long as he keeps stepping up his skills is going to be a force. Congrats to Dan Burwell for finally knocking off the 1-2 combo of Glenn Shelby and Dave Olhasso in CDP. For the last several years CDP has been the two of those going back and forth with each other, so it's refreshing to see another name on the top of the list.
Honestly, the most interesting result as a reporting is High Lady; with Randi Rogers finishing 3rd overall in SSP, and absolutely crushing the remaining women shooters. The next closest shooter was almost 60 seconds behind Randi's pace; and Team Glock's Michelle Viscusi finished a dismal 82 seconds behind Randi. To explain how well Randi shot the match, we'll compare her score to Bob Vogel's. Bob shot the match with a final score of 154.37, compared to Randi's 202.60. That puts Randi 48.23 seconds behind Bob. The next closest woman shooter to Randi shot the match in 261.82, finishing 59.22 seconds behind Randi. To spell it out plainly – Randi is closer in score to Bob Vogel than the next best female shooter is to Randi. That's not just a victory, that is absolutely dominating the match. Congratulations to Randi Rogers on her Top 3 Finish and on crushing the competition at the 2013 Indoor Nationals.