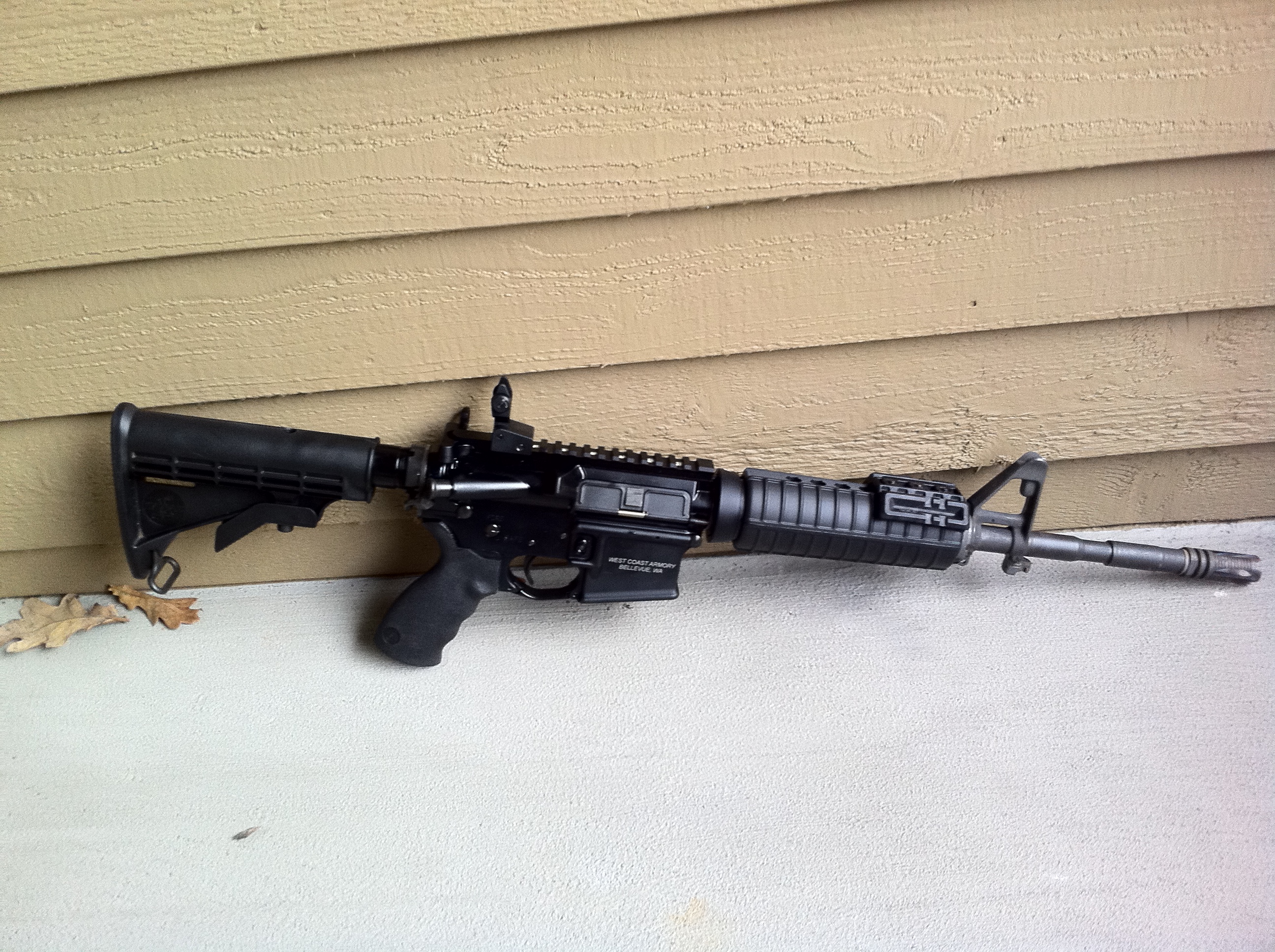 People have the tendency to pick up my AR and go "Wow, this is light!".  Yes it is and it's going to stay that way.  Having a light rifle is extremely important to me since running and gunning is a lot of work and I'm a little girl.  I don't need a front heavy rifle weighing me down when it's not necessary. I am trying to design a rifle that is easy to carry around, easy to shoot, reliable and accurate.  Given that quality parts will keep it reliable and I'm not going to be able to out-shoot what I have now for a long time I am focusing on keeping my rifle light and making it easy to shoot.
Right now my AR is nice but very basic.  The "West Coast Armory" stamped Tactical Machining lower was a birthday present from work and the Daniel Defense upper a gift from the infamous SamFromWades, I have a Colt bolt group (another birthday gift) from a coworker and gunsmith Jim Corollo from West Coast Armory did a really nice trigger job for me.  After that I threw on a used 14.5″ light weight Colt barrel bought off a friend, a hand-guard, an extended charging handle, a Bushmaster stock and a Magpul sling mount.  It all kind of fell together over the period of a week.
My future plans are to pick up a Noveske 14.5″ Afghan and have it dimpled then have Sparky, my AAC Blackout flash hider, pinned on.  I am then considering picking up the Daniel Defense 10″ Lite Rail on which I plan to put a Crimson Trace MVF.  Then I'll put a Trijicon RMR on top and a Magpul CSR stock on back and call it good.  I will have a good looking, reliable gun with a reflex sight, a laser and a flashlight that will hit where it's pointing.  What more could I ask for?