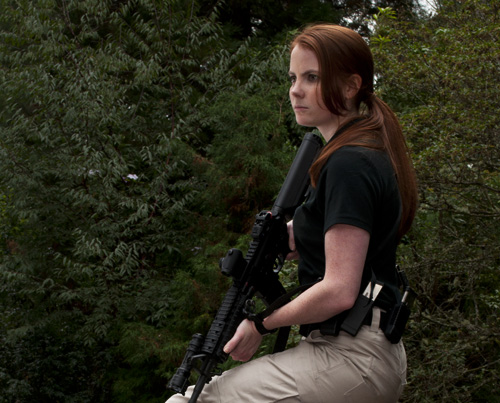 I want to take this opportunity to introduce everyone out there in Gun Nuts land to our newest contributor, Shelley.  Shelley comes to us by way of West Coast Armory in Bellevue, Washington where she's the director of their membership programs as well as coordinating all the events, leagues, and matches at the WCA including their burgeoning IDPA program.
Although you wouldn't know it from the picture at the left, she's a reformed skeet shooter, and has recently (as in the last 4 months) taken up IDPA with a serious intent of making Expert by the end of 2011. She's also interested in 3-gun competition, and I can personally attest is a pretty good shot with an AR15 as well.
One of the areas that Shelley is going to be covering with her first post tomorrow will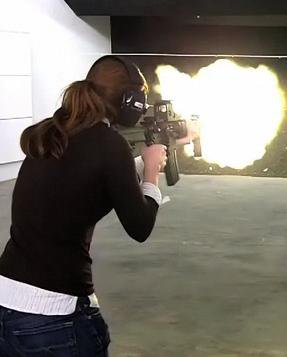 be why someone that is completely foreign to competition shooting and relatively new to the firearms industry would choose to take up a sport like IDPA.  Look for that post tomorrow.  She'll also take a look in the future at some of the common gun-industry myths perpetrated on unsuspecting women shooters that are looking to purchase a defensive firearm.  To that end she's actually carrying and shooting a j-frame revolver as her daily carry gun, and will have a real neat look at that in the upcoming weeks here on Gun Nuts.
I'm personally excited to have Shelley joining us here at Gun Nuts.  She brings a fresh perspective and a unique insight to a lot of subjects that many of us take for granted, and I believe that her voice will add a tremendous amount of information, and more importantly fun to Gun Nuts.  I'm looking forward to seeing what she's going to come up with, and I hope you are too!