Coming from Taurus in 2011 is their latest addition to the Judge line-up of firearms, the Tactical Operator Judge.  This is previously unpublished info that you're seeing here at Gun Nuts first.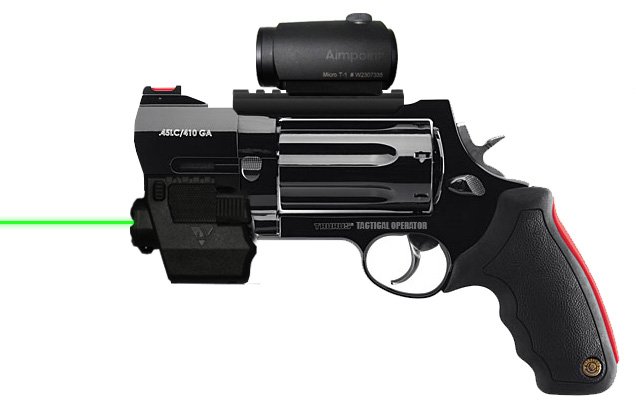 The Tactical Operator Judge will include from the factory the accessories you see at the left; a Viridian laser module, fiber optic front sight, and an Aimpoint Micro.  The top strap of the revolver will have an integral rail system to mount the Aimpoint, or you'd like to upgrade to an ACOG that will be supported as well.
The Tactical Operator is designed as an offensive handgun, much like the HK Mk23.  With a loaded weight of 6.5 pounds and a size just slightly smaller than a Buick, the Tactical Operator would be a suitable replacement for your AR or shotgun as a primary weapon system.  Available in 2011 with an MSRP of $1500, the TTO will replace all the guns in your safe in one convenient weapons system!