Things I do not get: people shooting small revolvers such as Smith & Wesson J-frames or the Taurus CIA in single action mode.  If you're shooting a large hunting revolver in serious caliber that's one thing, but the whole point of small framed revolvers is that they're a fighting weapon.  Honestly, I feel like shooting your J-frame single action is doing nothing but teaching bad habits – if you need to use that gun in a fight and all you've done at the range is shoot average groups in single action mode then when the time comes you're not going to have the range time to properly manage the DA trigger under stress.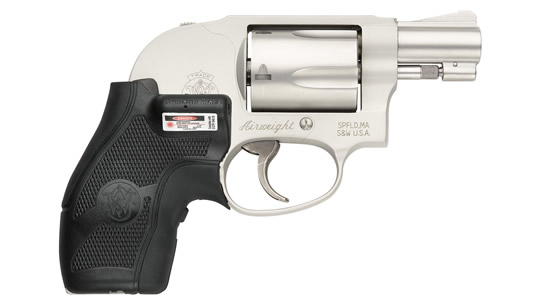 That's why I'm a proponent of double action only revolvers for personal defense, like the Smith & Wesson 638CT model pictured.  If you buy a revolver that is double action only, there is no temptation to shoot it in single action mode at the range for practice time.  We've talked before about how no one likes to practice things that they're not good at, and that's true for any shooter.  That's why when you're at the range and struggling with the double action trigger on a small frame wheelgun, it's easy to give in to the dark side and pull that hammer back; believe me I know because I've done it myself.  But the problem is that when you pull that hammer back, you're not training yourself for how you would use your gun in a defensive situation…which is why for some people the double action only gun is the best choice.
The 638CT pictured above does the shooter another favor by coming from the factory with Crimson Trace Lasergrips.  Just like the Crimson Trace equipped Ruger LCR,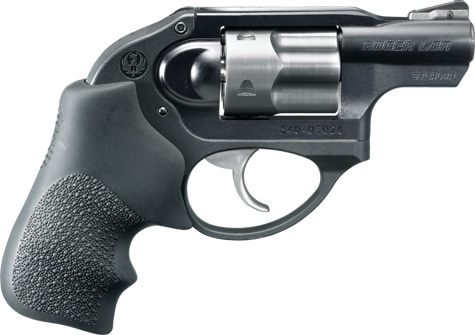 the laser grips give you an excellent defensive backup sight as well as a great training aid.  The best way to learn to shoot a double action revolver isn't actually range practice.  It's dry fire, lots and lots of dry fire.  Using the Crimson Trace, put the dot on a spot on the wall, such as a screw in a light switch or another small target.  Then dry fire slowly – the goal is to keep the dot from bouncing off the target.  As you get stronger, go faster.  You can do that same drill without a laser – just get close to the wall and use the screw or the divot as your aiming point, and dry fire until the sight picture starts bouncing off the target too much.
You don't even need to do it excessively – try 5 "cylinders" of dry trigger pulls, do 3 reps with two hands, 1 rep strong hand only, and one rep weak hand only.  Do this regularly and the next time you go to the range with your double action revolver, you won't be tempted to pull that hammer back to single action mode!