Daniel Defense, makers of AR15 parts and accessories as well as the DDM4 carbine have unvieled their latest rifle, the DDXV ("XV" would be the Roman numerals for "15", very clever).  The DDXV was shown to the public at a Lucas Oil Racing event in California, where race fans were able to view and handle the new carbine.  Here's one of the interesting bits from Daniel Defense's press release:
Representatives from Rifle Gear, a local firearms dealer in Costa Mesa, CA (www.riflegear.com) were on hand to clearly explain and help California residents understand the particular accommodations that must be made in order to comply with state laws and regulations. Both Daniel Defense and Rifle Gear were assisted greatly by the Calguns Foundation (www.calguns.net). Calguns Foundation graciously contributed materials that educated adults and children alike about safe, responsible firearms ownership in California.
It's a bummer that residents of California are not trusted enough by their elected representatives to own the new DDXV.
Back to the rifle though – the Daniel Defens DDXV is their "entry level" platform, and as such comes with the following features:
Standard Mil-Spec upper and lower
enhanced magazine well
Daniel Defense AR15 BUIS
Magpul PMAG
A2 flash hider
Don't worry, I'm not going to tease you with all this AR talk and not give you a pic.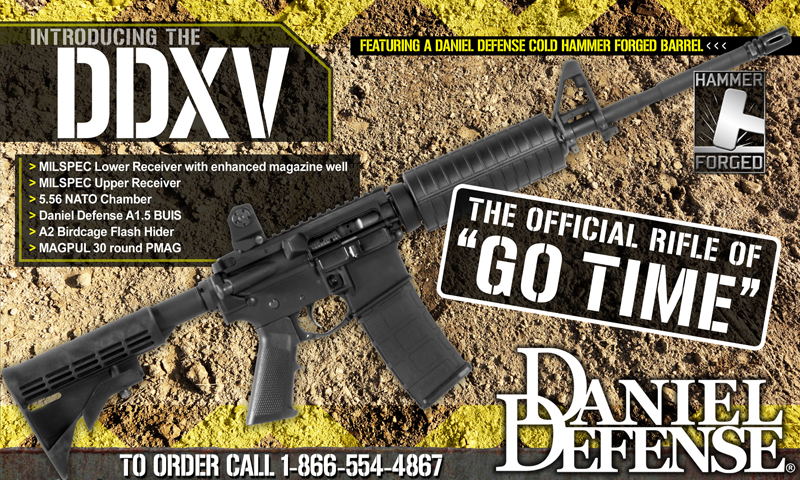 Looks like this will make a nice starter AR for someone looking to build a platform, or to just burn up a bunch of .223 softpoint ammo for giggles.