The monthly pin shoot at Marion County Fish and Game was a blast, as usual.  I brought my Taurus Tracker in .357, which I shot like crap with, and my Walther P22.  It turned out that I only shot one real bracket with the .357, as for the second bracket one of the regulars asked me if I'd like to try his Smith & Wesson 945, which is the Performance Center 1911.  I have to tell you, shooting a $2k pistol was painful experience, but I did for you, my dear readers.
Here's a pretty awesome picture from the shoot – the gun has opened up and you can see the empty casing in the air, and the bullet has just hit the left most pin.  Click to embiggenate.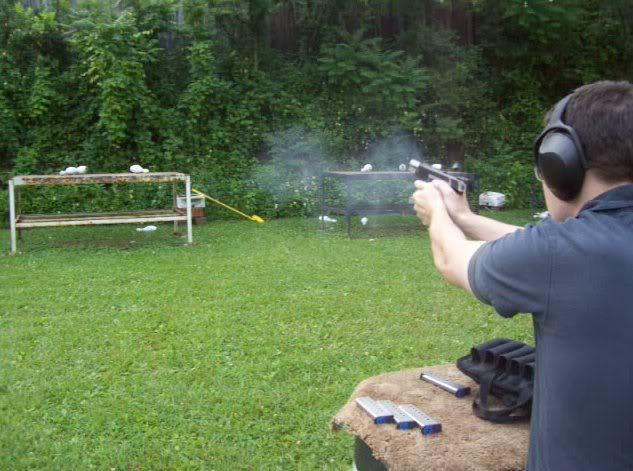 Even though this video is titled "Part 2" it's actually the first video with me shooting the 945; had a pretty good time shooting it.
The second video is a lot of fun – as you can see, I had fallen behind on the actual pins because I dropped a couple of shots.  I made up the time on the reload, which lead to us having quite the photo finish.  I give a little Tiger Woods-style fist pump right there at the end; and if you slow the playback down you can see how closely together our pins hit the the ground.
However, I saved the best video for last.  Here's my buddy Greg, who normally shoots a Beretta 92 in 9mm, trying out a guy's S&W double action .45 Colt.  He has a little bit of trouble with it, but the video is so great I had to post it.  Everyone is yelling and hollering, which made what was already a fun round even more interesting.
I didn't get any video of the .22 round this week, and even more sadly I didn't get video of what we did after the pinheads match.  We had some time to kill, so the ROs let people just kind of "have at it" at the little pinheads with whatever caliber they wanted.  Let me tell you, a pinhead flies when you hit it with a .357 magnum round.
The next pins match is July 26, and there is a Friday night steel match on July 11.  If I have my new Glock 35 by the 11th, I'll make a solid effort to be there for the match.
As usual, the pin shoot was a great time – it really is one of the most fun things you can do with a pistol.