Carrying a gun is difficult. You have to do things like train with it, and put it on every day.
Actually, let me rephrase: carrying a gun properly is difficult.
Actually, let me rephrase: carrying a gun properly requires a modicum of work and people don't like work.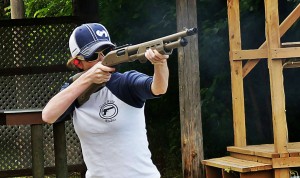 I carry a gun. I get up in the morning, I put on jeans and a tank top (yes, I often still wear tank tops in winter in South Dakota) and I put on my gun. If I'm wearing an outfit that doesn't accommodate my appendix carry holster (I wear tank tops in the winter because I rock sundresses all summer) I use other forms of self-defense, like a knife or pepper spray.
I go to the range (on my days off, paying full price, thank you very much) a minimum of once a week and shoot my gun.
Boom. Concealed carry solved.
Instead, firearms trainers and marketers and shoppers have turned "concealed carry for women" into this whole convoluted thing where we can't just pick out a gun and a holster that work for us and then go about our lives, so instead of TRAINING women obsess about "oh I have hips and boobs and my hands are whatever and I need something special" when really they just need to get a gun and a holster that work for them and then train and then put it on every day. Or not, and then have back ups, and then oh yeah train because that's really what's important.
We are conditioned from an early age that guns are manly and scary, then we get stuck in some class with a bunch of other women and we are told that because we are women we have all these special considerations and so we enter the world of firearms thinking that somehow having internal genetalia makes us carrying a gun COMPLICATED and we need all these special bullshit guns and products to compensate for the fact we can lactate when really we just need to find a gun we like and a holster we like and train just like everyone else.
I'm not saying we shouldn't market to women or continue to develop products for them, I'm saying we need to stop making this more complicated than it needs to be. I, for one, overthink everything in life plenty enough without some dude standing over my shoulder asking if I can rack the slide on a 1911 and telling me about this awesome .380 that will FIT MY CURVES and the TOTALLY FASHIONABLE holster purse that he must've seen in GQ or something since he's SO FASHIONABLE. I also don't need some woman telling me that because I have a butt I need a special fricken holster as if no guy on the planet has ever done squats before.
Get a gun. Get a holster. Take a class. Wear your gun.
Problem. Solved.