I honestly can't think of a good name for my now "signature" red holster from Comp-Tac; but I did get a request from someone to see it in action.  So I grabbed a screencap from this video for a shot of the holster in action.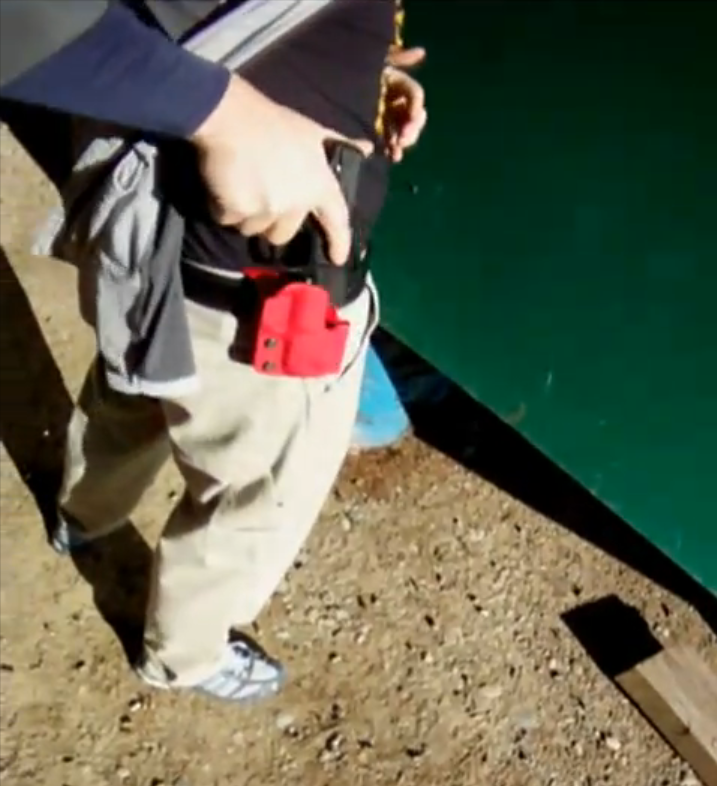 A couple of features of the holster that you can really see well in that image are how wide open the thing is – there's no hunting around for the opening of the holster when you're putting the gun back in, which makes it much easier to holster up without having to look down at your holster.  You can also see how deep the sight channel is – this is great for competition shooters who will frequently replace the factory sights on their guns with sights that have a different profile; in fact I'll probably end up replacing the front sight on the SR9c with a fiber optic eventually.
The other thing that I really like about the Comp-Tac paddle is that the paddle is part of the holster's body.  Unlike other paddle holsters such as the Fobus, the "paddle" and the back piece of the holster are all one piece, with the paddle folded over and tucked under my trousers , held securely by my belt.  I cannot recommend this holster strongly enough for IDPA or USPSA competition, and you can buy your own from Comp-Tac's website.