Have you seen this photo? It's been widely shared on Facebook, because some ranchers in Florida had what is clearly a dinosaur eating their cattle, so they did what any reasonable person would do in that situation and killed it.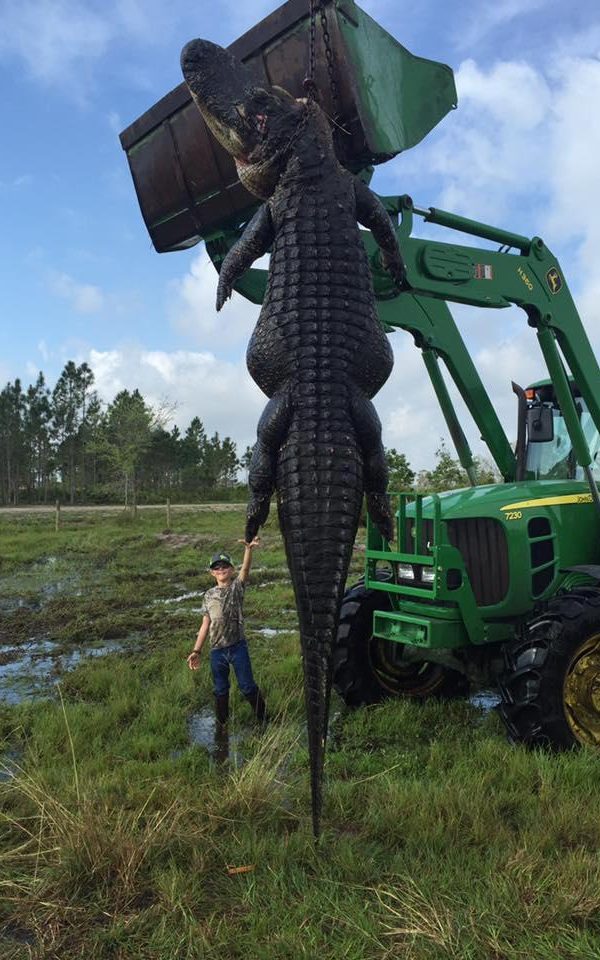 And that's when the drama began, because people On the Internet don't like it when you kill things, even if those things are an apex predator that lived through the K-T extinction. Physically unchanged for a hundred million years, because it's the perfect killing machine. A half ton of cold-blooded fury, the bite force of 20,000 Newtons, and stomach acid so strong it can dissolve bones and hoofs.
Sorry, where was I going with all of this? Oh yeah, people are terrible. I actually wanted to use this an example of one of the things that bothers me about the current discussion around hunting. On the one hand, you have hunters, who generally understand that killing stuff is a necessity of continuing to live on this planet. Whether it's killing a deer for food, a gator that's eating your cattle, or depleting a wolf population so it doesn't eat all the deer, sometimes you just need to kill stuff. Sure, sometimes we kill too much stuff or maybe kill stuff that doesn't necessarily need to be killed, but generally speaking hunters are responsible, ethical people.
Then there's the other side, which consists of people who have likely never been confronted with the harsh aggression of the real world in any meaningful way. To them, any sort of killing is bad, whether or not it's completely legal and justified. Unless of course you're talking about killing hunters, which explains how so many "peace loving" people sent death threats to that poor dentist for shooting a stupid lion. In short, you have a large group of people who have no idea what they're talking about handed a platform where they think their opinion matters, and shouting down anyone who disagrees with them.
Which brings me around to the actual point of this article, which is why I don't talk about gun control on the blog any more. Very old readers will remember that I used to be very political. I still am in some ways, I just don't talk about here because there's no point to it. If I wanted to get into internet shouting matches with coddled idiots, I'd create a Tumblr account. I don't want to do that, I want to talk about how awesome it is to shoot guns and stuff. There are plenty of other places to argue, but I'm convinced that 99% of all online "discussions" about deeply held beliefs are nothing more than two people shouting at each other while sticking their fingers in their own ears. It's not like anyone wants to learn someone else's point of view or have their mind changed. We're all just shouting into the void trying to score imaginary internet argument points so we can virtue signal to our like minded friends in the meaningless echo chambers social media allows us to create.
So what caliber for dinosaurs?