Let me start off with the answer you seek: Go purchase this light now!  Seriously; follow this link and order this light now.  You have two battery choices, AA or CR123, you can't go wrong with either.
When I reviewed Nitecore SRT3 back in February I made mention that I had replaced it with a Streamlight ProTac.  That replacement took place in early January so I give you a short-term review.  Short term in this case means about 3 ½ months of daily carry and use.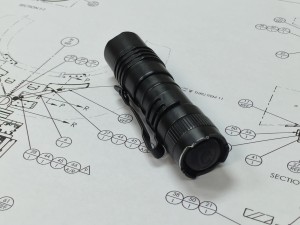 The ProTac 1L is a well-made, decent sized (as in not too bulky, but big enough to provide decent light) LED flashlight made by those purveyors of affordable lumens, Streamlight.  This is the 4th Streamlight flashlight I have purchased, and once again I am impressed.  In fact, I hope I have finally realized that Streamlight should be my go to manufacturer for flashlights.  Sure, Surefire is great, but on a cost vs. benefits scale, Streamlight holds the key – at least for me.
Here is what Streamlight says about their little flashlight and the published specs:
An ultra-compact tactical light, the ProTac® 1L is small and easy to carry, and uses a single lithium battery. The light is one of the most versatile personal carry lights available for users, from law enforcement personnel to industrial technicians.
Features Ten-Tap® Programming – Choose from three user selectable programs:
1.) high/strobe/low (factory default)
2.) high only
3.) low/high
C4® LED illumination output and run times:
HIGH – 180 lumens; 3,800 candela peak beam intensity; runs 2 hours
LOW – 12 lumens; 250 candela peak beam intensity;  runs 24 hours
STROBE – runs 4 hours
Includes one 3V CR123A lithium battery and nylon holster
Solid State power regulation provides maximum light output throughout battery life
Rubber push-button tail switch
Durable, anodized aluminum construction with impact-resistant tempered glass lens
IPX7 waterproof to 1 meter for 30 minutes; 2 meter impact resistance tested
43" (8.71 cm); 2 oz (57 grams)
Did you note the part I underlined above?  Did you notice the photos?  Industrial technicians; yup, that is the category I fall into.  I buy small  flashlights with two goals: 1) personal use, be it protection or finding the crayon my son dropped at the restaurant and, 2) ensuring airworthiness of aircraft at my day job.
I am not a LEO.  I am not a fire-fighter.  I am neither a major nor minor league door kicker.  I research and review my non-firearm related EDC gear with realistic EVERYDAY goals in mind.  I am way more likely to drop my flashlight from a ladder into a bucket of waste jet fuel (the ProTac experienced this once) than to survey a smoke-filled room for survivors, or bad guys.
So, after daily carry I can give the Streamlight ProTac 1L a solid 100% review.  I have dropped it from my pocket, kicked it, dropped it into the previously mentioned bucket of jet fuel, sprayed it down with isopropyl alcohol (to remove the jet fuel), and it even got put through the washing machine once.  It has proven itself tough.
Like Krylon of flashlight world; no drips, no runs, no errors.  That said, I can, and will, do an abbreviated Pro's/Con's for it.
Pros
Dependable – if a flashlight isn't dependable, why bother.  Buy this with confidence.
Bright – It is not retina searing, but it is bright enough for every day task.  I would recommend something brighter for a bump in the night though.
Size vs Power – about perfect.  It is comfortable and lightweight.
Selectable Modes – I don't need the strobe or the low power mode, but thankfully Streamlight gives us the option to turn them off permanently.  Bright is what I want, bright is what I get.  Circuit engineering done right.
Cons
My only complaint is with the clip.  It is stout and hasn't lost tension, but the allowable positions leave more of the flashlight sticking out of my pocket then I would prefer.  I know; first world problems.
As I said at the beginning, go buy this light.  I have two co-workers with the 2L version, which adds a second battery.  They are equally worthy of your ownership, although I find them a little long for everyday carry.
So you are still on the fence as to whether you should purchase the Streamlight ProTac 1L or not?  I'll let Arnie opine.