I will likely offend legions of people with this post, but so be it, it's an editorial and my current opinion. 
When I started shooting competition I had the intent to make IDPA Master in SSP and ESP.  That was in the fall of 2014; now it is 18 months later and I find myself no longer concerned about it.  Oh, it is still a goal of mine, but in working towards that goal I have learned a few things.  Things that have changed how I train, my gear and my overall point of view.  What follows are some things I wished people would have explained to me when I first started shooting competition along with some observations I have had.
I'll start with International Defensive Pistol Association, or IDPA.  I will openly admit I have only shot a few IDPA club matches, but it left me cold.  Perhaps my exposure was an oddity, but nevertheless, it influenced me.  Here is what I have learned.

The IDPA Classifier is a decent means to track skill growth and improvement, especially with a CCW weapon concealed under street clothes.

The IDPA Classifier has virtually nothing to do with IDPA Match skills.

Within the ranks of IDPA you will find good people; unfortunately you will also find Tactical Timmie's of the highest order.  These are the people who consider it to be training for the streets – more on this later.


IDPA is now, and always has been a game; although, a lot of the membership would seem to believe it is not, even though the rule book states it on the first page.

USPSA shooters take themselves less seriously.
In my time shooting competition I have found myself identifying with the gamers more than the tactical guys. I do care about self-defense and defending both myself and my family.  I carry my CCW as often as permissible.  I also carry a flashlight and small locking folder because, unlike the CCW, I find myself using those items on a daily basis.  I do not live in fear of a ninja attack or zombie apocalypse but the simple fact is the firearm is the best tool to defend ones self, if circumstances both require and allow it. Thus I carry a firearm, but I digress.

Let me address those items I listed above in more detail.

The IDPA Classifier test multiple skills against a set time. You are only judged against the clock. There is very little movement and the Classifier never changes. This is good for tracking growth and skill development.  Oddly enough, you are not required to use a cover garment and most people seem to despise shooting the classifier.
In an IDPA match you will have no-shoots, hard targets, movement, swingers, ports to shoot through and a you often have to wear a concealment garment, which is normally the vest. The vest, I hate the damn vest! People have told me, to my face no less, that IDPA is proper training for CCW.  Perhaps so, if you wear a vest around town.  If there was ever a piece of shooting equipment specific to a game it is the IDPA vest.
I wonder if the founders of IDPA had a conversation similar to this, "Let's all wear this vest and game concealed carry, then we'll claim it is real and that we are different from those dirty IPSICK gamers."
Let's review:

Shoot USPSA while wearing Salomon shoes and khaki shorts? Sure!

Wear those same shoes and shorts on an informal date?  Sure!

Wear them while hiking? Absolutely!
When, oh when, do you wear the IDPA vest out in public?  Who's the gamer????
Some people have actually told me that IDPA is training! Too my face! Yes, seriously! I responded by asking who the instructor was; which went over well. I was also informed that I was just a gamer and did not appreciate the concealed carry weapons skills that IDPA trained.
These same people who claim IDPA to be training are often seen competing with a specially designed IDPA vest concealing a Glock 34, S&W Pro, or some other gamer gun.  A gun that has a light weight trigger, held in a IDPA legal OWB "race" holster.   I will openly admit that would be perfect practice if that is how they actually carried, but it is not training.  For training you need an instructor.
In fact, the individual mentioned above, that commented on the training aspect, well he put his Ruger LCP back in his front pocket in the parking lot following the match.  I am sure he felt bravado and security in the training he had just received. Anyone else see holes in this thought process???
What about those dirty USPSA gamers?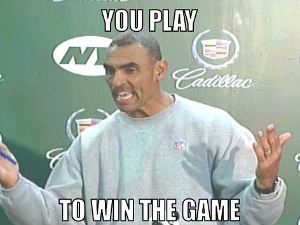 USPSA competitors are shooting in a game.  They know it, IDPA shooters knows it; hell, people that don't know anything about guns can look at a photo of a USPSA competitor in mid-stride and recognize he is competing – IN A GAME!

USPSA shooters don't take themselves seriously. Look at what some of them wear. Go to an IDPA match and you'll see 5.11 pants, Blackhawk!, a great many shirts with logos or sayings from the Spartans, Trojans, Romans, etc. Go to a USPSA match and you'll see cargo shorts, golf shorts, ugly shoes and comical tee shirts. Of course in both competitions you'll find the person wearing a jersey because sponsors.
I am a gamer. It took me less than 3 IDPA matches to determine I am not a Tactical Timmy, which is odd because I do enjoy my AR and self-defense classes. But there is a time to be serious, a time to be realistic and a time to play the game.  You can be a student of self-defense without being an over the top Timmy.  Equally you can be a competitor and still take self-defense seriously.

From my view-point we have two action pistol shooting competitions that are diametrically opposed on how they view themselves. This is not to say there are not gamers in IDPA, because there are. But the real gamers generally migrate to USPSA.  As Caleb once said in a Ben Stoeger podcast, running and shooting a pistol is fun and USPSA does running and shooting better.
Since I have just expended 1000 words berating IDPA I must hate everything about IDPA, correct?  Actually no!  For actual gamerness (new word) and competition, yes, my focus is on USPSA.  As for IDPA, I plan on actually rejoining and shooting some matches using my real CCW, from my real carry holster, in my actual street clothes.  Being a person of logic I am going into those matches with the understanding that while IDPA is not training, it is a good means of practice with my carry gear. 
Practicing with the gear you actually plan on defending yourself with – that sounds an awful lot like the original intent of IDPA to me.

So what are your thoughts?  Do you think I am completely off base here?  Did I offend you?  Do you disagree?  Do I care?