A few days back I posted about the rumors that have gone round the internet about Taurus purchasing Colt machining to start their 1911 production. At the time, I reached out to Taurus directly to see if they could shed some light on the situation; due the holidays and how busy everyone is prepping for SHOT Show, it took a bit for them to get back to me. I spoke with their PR/Marketing Director, Tim Brandt via email, and on the topic he had this to say:
I just wanted to let you know that I was able to confirm that no Colt machinery was purchased.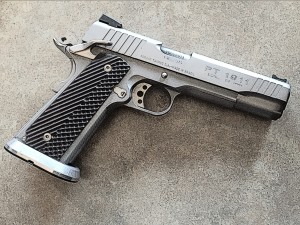 After noodling on this, I do have a theory on how all of this started. It's a well known fact that Springfield Armory, a reputable maker of 1911s, sources some of their slides/frames from Imbel, a Brazilian company. It's also a well known fact that Taurus did buy the Beretta factory/tooling to make the PT92. So when you add those two factors together, with the internet being the delightful source of half-truths and misinformation that it is, I can see how people would end up spreading a rumor about Taurus buying Colt machining.
As it turns out, it's 100% not true, just as I speculated in my earlier post. Thanks to Tim at Taurus for confirming the conclusion we had arrived at via a little detective work.