It's time for another rant.
Some time ago I got together with my brother and a friend of his because he asked me to do a bit of training with them. We drove out to the range and had a pretty productive session with the public range all to ourselves. As we were nearing the end of the session other people showed up. By this point I've spent enough time on the range to know pretty quickly if someone is going to be a problem…and this group was going to be a problem. I kept a careful eye on them as we were finishing up. Of the four of them, at least two had never touched a gun before and the third was certainly very inexperienced. The fourth was, I suppose, the "gun guy" of this group as the guns appeared to belong to him…though sadly he didn't seem to have any more sophistication in the way he handled weapons than the rank newbies.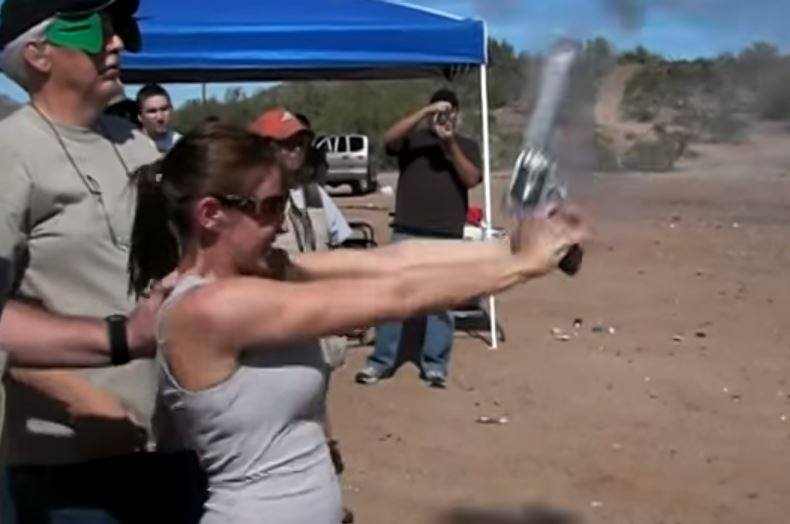 He pulled out a big blue S&W case and my heart rate instantly jumped at least 30%. I had a bad feeling that he was about to pull out a .500 S&W Magnum from that case, and that he was going to hand it to someone who had no firearms experience. Sure enough, the case contained one of the big X frame revolvers. I told my party to pack up because we needed to exit the range ASAP. I approached him and asked if he thought it was really a good idea to hand a weapon like that to someone who had no clue what they were doing. Naturally he was completely resistant to any input and was quite offended by what I assume he considered my "meddling." Short of actually beating this guy unconscious…and believe me: the thought crossed my mind…there was nothing that could be done to stop this train wreck from happening.
My guys were packed up by the time this **CENSORED** idiot had loaded all five chambers and handed it to the smaller male of the group who had clearly never fired a shot through a handgun before.
I positioned my guys well back from the action and told them to watch carefully.
"He is going to fire two shots. One will land somewhere in the berm. Then under the massive recoil of that revolver he is going to fire a second one wildly up into the air completely by accident. And Hacksaw Jim Dumbass over there is too stupid to realize it."
Some of you may share Mr. Dumbass' incredulity. "Silly gun-writer! Revolvers can't double!" On the contrary:
I want you to notice the description of that video: "SKINNY LITTLE BOOM BOOM GIRL CANT HANDLE THE RAW POWER OF A 500 S&W!!!!"
…as if what you see in that video is her fault. It isn't. What you see right there is a failure on the part of all the dudes watching the spectacle rather than intervening to prevent it.
The .500 S&W Magnum is an absolute BEAST of a handgun. Some .500 loads have muzzle energy comparable to those of a 12 gauge slug. The recoil on this revolver is absolutely brutal. In the following video Jerry Miculek, who has the grip strength of a silverback gorilla, has to completely change his grip because the violent recoil of the weapon drove the hammer spur into his hand:
Because Jerry is an accomplished shooter with decades of experience, he knows how to handle the weapon safely. Most people do not have Jerry's experience or strength and have no hope of controlling the weapon. When the recoil hits the weapon almost flies out of their hand, moving far enough to reset the trigger. They grab at the gun purely out of reflex and in the process pull the trigger a second time. When this second shot happens the muzzle is most certainly not pointed in a safe direction. In the first video you can see that the muzzle is just shy of being straight up when the second round is fired.
Where did that bullet land? 
…and that, folks, is the best case scenario. The worst case is as bad as it gets:
"Corredor-Rivera died of a single self-inflicted gunshot wound to the head. Ralls County Sheriff Gerry Dinwiddie tells WGEM-TV that the woman was shooting a .500-caliber Smith & Wesson handgun when the strength of the gun's recoil caused her to lose control. She was visiting family in the area. The sheriff said the gun spun around in her hand, leading to a second fatal shot. No charges are expected in the case."
Stop for a moment and ponder what a point-blank gunshot wound to the head from a .500 S&W Magnum looks like…then realize that happened because some stupid bastard thought it would be funny to watch a newbie shoot a powerhouse revolver.
People seem naturally inclined to perform this sort of asinine stunt and now the possibility of "lulz" on the web and in social media seems to further encourage the idiocy. It's not just big revolvers, either. People seem inclined to hand automatic weapons to inexperienced shooters with insufficient consideration, too. Sometimes with tragic results. I have had to personally grab someone and point the muzzle of the fully automatic weapon they were firing back towards the berm because they had no control and the muzzle was about to sweep everybody at the benches on the range. Someone thought it was a splendid idea to hand this person, who had no experience with firearms, an AR with a 100 round drum attached to it. The young woman in question had no idea how to control the weapon even with one shot at a time, and certainly did not have the presence of mind to release the trigger when it started going pear-shaped on her.
Nobody else seemed to understand the potential danger or notice as things were getting bad. Had I not intervened at least two people would have taken a bullet because they were too busy filming this on their cell phones to notice that they were about to capture some excellent footage of their own death.
For the love of God, stop handing these extraordinarily dangerous weapons to newbies. It's not funny to watch a potential new shooter ruined by a bad experience with heavy recoil, and it's really not funny if someone is injured or killed because you gave them a weapon they weren't prepared to control. If you see something like this shaping up, intervene. Try the nice approach first. If that fails, try the not-nice approach.
Returning to the incident with Hacksaw Jim Dumbass, while he was standing there with a stupid look on his face (more stupid than the look he normally has on his face, anyway) wondering what just happened, I stepped into the vacuum and explained what just happened, why it was his fault, and how he should immediately put that weapon away before he was responsible for getting someone killed. Sheepishly, he complied.
For the love of John Moses Browning, stop this nonsense.