Yesterday was better – a lot better. The sun was shining, it was absolutely beautiful out. And I made all my shooting times. And there were definitely holes in all my targets. It was a good day.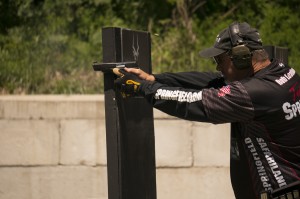 In the Production race, Rob Leatham cleaned up on the Barricade, while Enoch Smith and Dave Sevigny both dropped points. If Rob can clean the plates today, the Production championship will be his, but we've seen Rob Leatham drop plates in the past, so the match isn't over yet.
In the Women's race, Jessie Duff shot a flawless Barricade, Tiffany Piper only dropped a couple 8s while Maggie Reese shot some 5s. Maggie will have to clean the Practical today to get back in the running, while Tiffany and Jessie battle it out on the Mover. Vera Koo is also shooting well this year, I'll be keeping an eye on her today as well.
Tim Yackley appears to be leading the Junior shooters just ahead of Colton Cerino. Louis Surgi had some major points down early in the match (to be honest, I don't remember what happened, I believe it was a gun malfunction) and is essentially out of the running.
Bruce Piatt had some extreme gun problems early in the match, so Doug Koenig and Kevin Angstadt are battling over Xs. Right now, my money is on Doug, but in this game you never know what's going to happen.