It's the first day of Bianchi Cup! I have some work to do this morning, but will shortly be headed out to the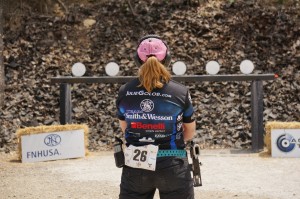 practice range to test out the gun I'm using (you may recognize it as belonging to the lovely Brooke Sevigny), then it's off to the range to sort out my press pass and registration and I start shooting at 12:30 with the Falling Plates event!
The Plates have always been a source of conflict for me. They were my best event the first year I shot and my worst event last year. I haven't been shooting much at all lately, so I have no idea how this Bianchi Cup is going to go in general. I have the opportunity to medal in Ladies' Metallic, which is a fortunately small division, unless all the other girls have figured out it is a fortunately small division in which case I may be in trouble…
Wish me luck, lots of luck, and a little divine intervention to get through this week! I'll keep you all updated as the week progresses.