Every year when I attend an industry trade show, I think of this exchange from the best episode of Firefly, Shindig:
Kaylee Frye: Don't you just love this party? Everything's so fancy, and there's some kind of hot cheese over there.
Cabott: It's not as good as last year.
Kaylee Frye: Oh, really? What-what'd they have last year?
Cabott: Standards.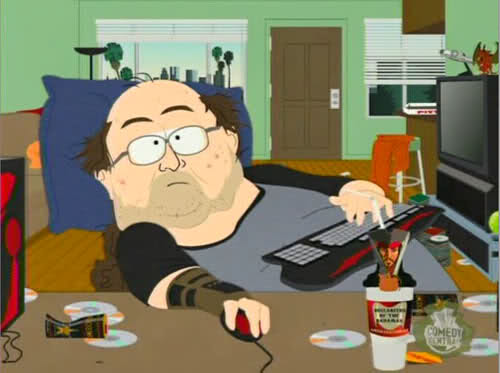 In that episode, Cabott is the bitchy, stuck up girl, and we're supposed to dislike her for being mean to the plucky and adorable Kaylee, which of course I agree with. But it gets me thinking, have media standards gotten too lose at industry shows? I remember my first SHOT Show, in 2008. I had no business being there; my blog was small with limited readership, and really I was just some asshole who liked guns but had the right connections to get a media badge at SHOT. Now, I'm still just some asshole who likes guns, but I do this for a living now. It's funny how that changes my perception of who should and shouldn't be at shows. What further complicates this issue is that each show is a different audience. For example, SHOT and NASGW are trade shows – not technically open to the public, so I feel that they should enforce tighter standards on media than at a show like NRA, which is open to the public.
It's difficult to talk about this issue without sounding like an elitist jerk, so I'll just get out of the way: there are people credentialed as "media" at SHOT Show who have absolutely no business being media, or even at the show itself. I know, because I was one of those people. But how do you control that while still allowing access for up-and-coming writers and bloggers, people who are grinding to pay their dues? Essentially, the question I'm stuck on is how does an organization keep the riff-raff, the tire kickers, and the T&E whores out, while still providing a means for people on the way up the food chain to earn their chops?
I'm not just talking about online media here either. The guy who writes one article a year for Middle BFE Fishing Journal shouldn't be there any more than the guy who runs Fred's Gun Blog that has three posts and 1 reader (Fred's mom). At the same time, enforcing standards on "traditional" media is a lot easier than digital media, because you can say "you must have at least x articles published each year to qualify" is a fairly objective standard. Of course, with the freelance game getting tighter and tighter, most up and coming writers are eschewing that model entirely, preferring to…wait for it…create their own content on their own sites.
Which makes sense, when you think about. Why would you suffer the slings and arrows of writing someone else's assignments when you can create your own work, about what you're passionate about, and if you're lucky connect with a reasonably sized audience. So with more writers, and talented ones at that, pushing into digital media, how do you effectively qualify digital media?
The easiest answer is of course, traffic. You can set an arbitrary threshold of "site must have x pageviews or uniques a month for the author to participate" – but that's not really a 100% solution. I mean, if my site was called "Tits and machine guns" and all I did was post pictures of slutty girls with automatic weapons, I'd probably have triple the traffic I have now, but that wouldn't mean I was actually qualified to cover SHOT Show. To flip the script, you could have a very in-depth, technical, knowledgeable youtube channel full of news and how-to vids that only has 2,000 subscribers – you'd be absolutely qualified to cover SHOT, but your traffic is a joke.
The truth about gun reporting is that the best way to determine whether or not a site should or shouldn't be qualified is about the same way you distinguish erotica from porn: I can't tell you the difference, but I know it when I see it. Traffic is important, yes. But so is content. So is frequency, quality, even little things like site design.
To close this post out, I'm going to post some hypothetical bloggers. I want you to post in the comments whether or not, based on the information I give you, whether or not they should be credentialed as media at SHOT.
Blogger 1
Works primarily as a defensive firearms instructor, teaches open enrollment classes about shooting fundamentals. Blogs 1-3 times a week, posts entirely about defensive shooting concepts, products, and ideas. Has about 75,000 unique visitors a month.
Blogger 2
Day job unknown, posts two posts a day, five days a week, M-Th are focused on video games, Friday is a weekly "firearms friday" where they take the guns from video games and shoot them on a real range. Isn't really a good shooter, but due to crossover appeal reaches 1 million unique visitors a month.
Blogger 3
Posts primarily about non-firearms topics, but is a gun enthusiast. Possesses poor technical knowledge, minimal shooting skills, and frequently passes bad information based on ignorance and a lack of skill. Due to a lack of technical writing skills and poor content, reaches less than 5,000 unique visitors a month.
Blogger 4
Some asshole that was on Top Shot and thinks he/she is hot shit now.
Blogger 5
Blogger 5 is the prototypical enthusiast blogger. They have a regular 9-5 job, but they like guns, like to shoot, are reasonably knowledgeable, and post decent content. They're not superstars, they make mistakes, but they work hard and have attracted a loyal following. Their posts are a mix of firearms related stuff, maybe some personal stuff, maybe their other hobbies mixed in a bit, but mostly keep it centered around guns/politics. Let's say between 10,000 and 40,000 uniques a month.
Let me know in the comments what you think, not just about the bloggers at the end but the post in its entirety.