Exactly one week ago, I wrote a post revisiting the frequently hotly debated topic of weaver vs. isosceles. If you don't want to read it, here's the tl;dr version: with the exception of a very, very, very, very small portion of the shooting populace, it doesn't matter which stance/grip/thing you use.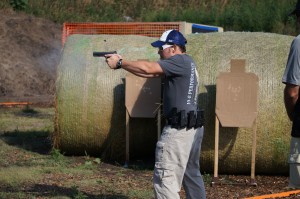 Of course, "nuance" is difficult for the internet, so my comment section flooded with people talking about how "lol weaver suxx" or "Iso is for gamers" and a bunch of other nonsense. However, one argument stuck out at me in particular, to the point where I feel the need to actually defend the Weaver stance and its users. That's how stupid this argument is, it has me actually defending the position with which I nominally disagree.
This argument was repeated multiple times on the blog, and I even addressed it a bit on my FB page. It goes like this:
You shouldn't shoot Weaver because it's been proven in gunfights that you'll automatically go into an isosceles stance so lol weaver is dumb and gay"
That argument is stupid. It's stupid because if you replace "Weaver" with "sighted fire" and "isosceles" with "point shooting" it's the exact same argument made by point shooting smacktards about how you'll never see your sights in a gunfight so you shouldn't practice with them. Those arguments are stupid because they encourage a culture of mediocrity instead of a culture of excellence.
The entire point of training to use a gun for self-defense is to overcome our reptile hind-brain's reaction to fear and danger. Think about how stupid this argument is when you apply it to other areas of your life: "You shouldn't go to defensive driving school because under stress you'll just panic brake" or "you shouldn't study for the test because under stress you'll just forget everything you studied and fail." It's utter nonsense, but it's the kind of utter nonsense that people want to embrace, because it saves them from being challenged to do something difficult. Getting better at stuff is work. Getting better at shooting is work. Just talking about Weaver for a moment, ask anyone who has ever been to a Gunsite 250 if there were parts that weren't challenging. Of course there are. That's because the act of training yourself to overcome the fear response is difficult.
We have millions of years of evolution that tell us to crouch, cower, and run away from danger. It's the smart thing to do. It's what we did until we figured out how to make tools, weapons, and fire. Then we trained ourselves to stand in the face of the bear/mammoth/thing and say "naw, I'm going to kill you with this spear." If your entire argument against a technique is "don't use it because of your fear/stress response" then you fundamentally misunderstand the entire point of defensive firearms training. It's not to embrace our fear, it's to conquer it. Lewis Hamilton isn't afraid to throw his F1 car into a corner at 100 miles per hour because he's trained to overcome that part of his brain that's screaming at him "TOO FAST YOU'LL DIE FOR SURE."