Two things happened last night that will affect gun owners in America. The first is relatively good news. The GOP regained control of the Senate, meaning that both houses of Congress are under Republican control. That means that any new gun control legislation is pretty much DOA. That's good, and I won't spend a lot of time talking about that.
Here's the bad news. In Washington, I-594 passed. The first thing I want to do is show you a map of how the counties in Washington voted on 594: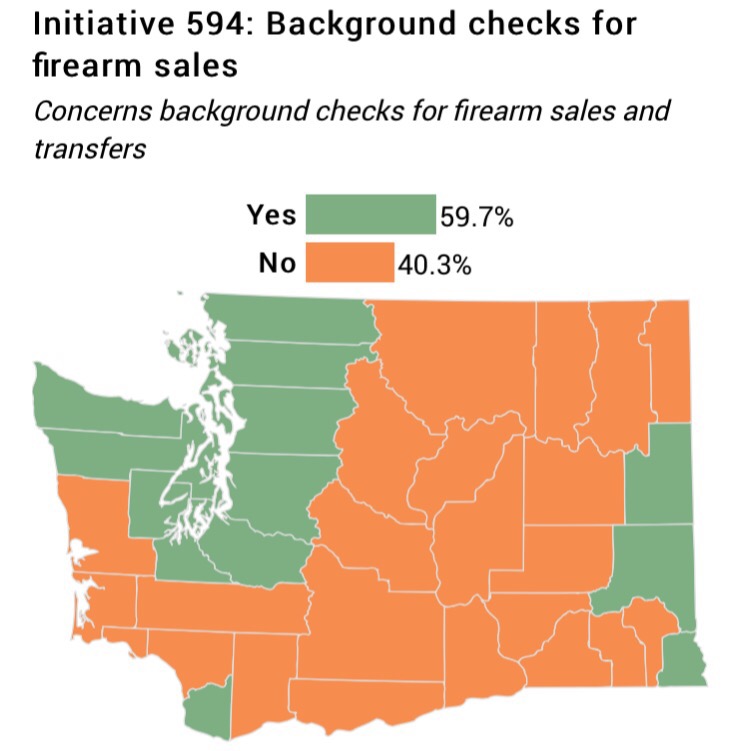 All of those green counties on the west coast of Washington are where most of the state's population live. They are reliably blue counties in elections. The only real surprise on the map are that Whitman and Asotin county in Eastern WA voted yes on 594. I can only assume that Washington State University is responsible for Whitman, and I have no real theory about Asotin.
But allow me to return to the point. The reason why 594 passing is bad news for gun owners everywhere is because it validates Bloomberg's strategy. This is a new kind of gun control game, they're smarter than the Brady Campaign and they have functionally unlimited resources. Yes, they played it smart in Washington. They picked an issue that's easy to misrepresent in universal background checks; they played that issue to a strong blue voter base, and then they spent a ton of money on marketing and GOTV. That's textbook "Winning Ballot Questions 101" and it's really hard to fight against.
I would expect to see a lot more ballot question fights in the near future, and I'd expect them to be over things like background checks. It is by far the toughest fight for us, because defeating their argument requires low information blue voters to actually care about facts, and that right there is why we lost in WA. Gun rights had all the facts on their side, and they still lost.
Sure, gun control at the national level is dead for at least two years. But buckle up Sally, because at the state level things could be getting rodeo pretty quick.